Finland welcomes Vectron locomotive for broad gauge rail system
The Siemens Vectron locomotive for a broad gauge rail system was revealed today at a ceremony in Helsinki, Finland.  The broad gauge Vectron, series number 193 971, has been designed to cope with a northern climate and is a modified version of the locomotive type currently operating in Europe. The Vectron, brought to Finland for […]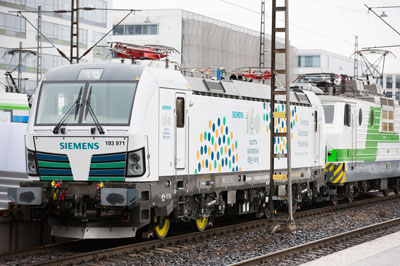 The Siemens Vectron locomotive for a broad gauge rail system was revealed today at a ceremony in Helsinki, Finland.
 The broad gauge Vectron, series number 193 971, has been designed to cope with a northern climate and is a modified version of the locomotive type currently operating in Europe.
The Vectron, brought to Finland for testing, is equipped with instrumented wheelsets to deliver operating data to technicians. The electric locomotive's train control system will also be tested and all recorded test data will flow directly into the development of the remaining order.
The Finnish Railways VR Group placed an order of 80 Siemens broad gauge locomotives in early 2014 the first of which is due to be delivered for test runs in early 2016. The first ten locomotives are to start operating in commercial transport in 2017 with 80 locomotives planed by 2026.
Mikael Aro, President and CEO of VR Group commented on the arrival: "The new electric locomotives will improve the efficiency and environmental friendliness of VR Transpoint's goods transport. A greater proportion of goods transport can be handled using electric power. Thanks to electric locomotives, trains on VR's passenger transport will be moving faster, more securely, and with greater energy efficiency."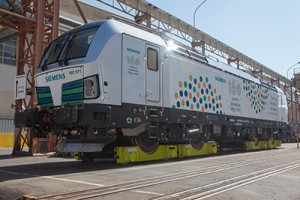 In order to transport the locomotives to Finland, a newly developed "loco buggy" will be used across the normal-gauge rail network in Germany. Each of the four axles of the 90-ton Vectron rests on a separate buggy reducing the need to dismantle large sections of the locomotive. The loco buggy system developed by Siemens and Railadventure GmbH adapts to different rail gauges making transport possible for other projects across Europe. Siemens hopes the introduction will provide customer ready trains and streamline logistics.
Related organisations
Related regions