Hitachi presents 3D film footage of conceptual high-speed train
Hitachi Rail has released film footage of its conceptual high-speed train interior, intended for Europe and the UK, at the UIC High Speed Congress in Tokyo. The footage focuses on the train's interior where the primary intention is user experience. According to Hitachi, the interior has been developed following extensive user research and passenger studies […]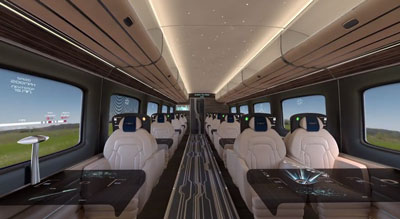 Hitachi Rail has released film footage of its conceptual high-speed train interior, intended for Europe and the UK, at the UIC High Speed Congress in Tokyo.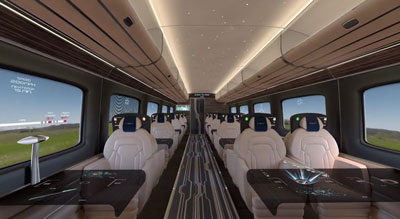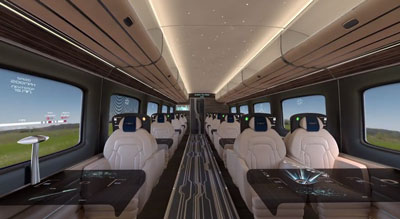 The footage focuses on the train's interior where the primary intention is user experience. According to Hitachi, the interior has been developed following extensive user research and passenger studies and encompasses expertise established whilst delivering rolling stock for the Shinkansen and High Speed 1 in the UK. 
Hitachi has incorporated key influences from existing rolling stock and drawn upon ideas from the automotive and aeronautical industries producing a balance between comfort, speed, efficiency and aesthetics. It hopes to continue to address the needs of future passengers and deliver a train that can grow and evolve with the needs of society.
The interior images and design can be viewed by visitors at the UIC High Speed Congress held between 7 – 10 July at the Tokyo International Forum. Delegates will be able to enter a fully immersive virtual reality walk-through with 3D imaging.
In addition, Hitachi will also be offering details of the Class 800/801 train for the UK Department for Transport's InterCity Express Programme. The newly delivered pre-series Class 800/801 trains are currently undergoing tests in the UK before manufacture begins on the 110 vehicles at the company's flagship rail vehicle manufacturing facility in County Durham.
A high-speed rail supplement features in Global Railway Review Issue 3 2015. The latest issue can be viewed for free by subscribing here.
Video footage of conceptual high-speed train
Related topics
Related organisations