Public consultation for the new Crossrail 2 is launched
A public consultation has been launched as the next step forward in the development of the new Crossrail 2, which could bring huge economic benefits across the UK. To help relieve the increasing pressure on London's transport network, Crossrail 2 would serve central London through an underground tunnelled section, between Wimbledon and Tottenham Hale and […]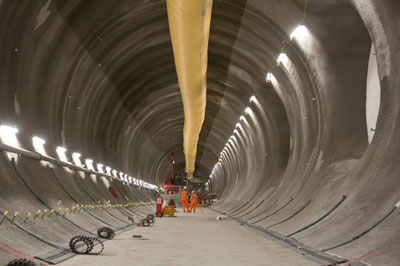 A public consultation has been launched as the next step forward in the development of the new Crossrail 2, which could bring huge economic benefits across the UK.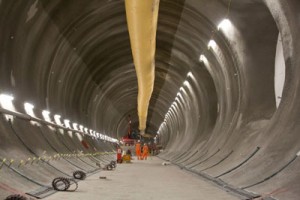 To help relieve the increasing pressure on London's transport network, Crossrail 2 would serve central London through an underground tunnelled section, between Wimbledon and Tottenham Hale and New Southgate, connecting with existing National Rail networks in Surrey and Hertfordshire. Despite the successful construction of Crossrail and the ongoing improvements to London Underground and the National Rail Network, further large-scale infrastructure projects are vital to support the Capital's unprecedented population increase, from a record 8.6 million today to 10 million people by 2030. Current proposals would see Crossrail 2 services become operational in 2030.
Two consultations on Crossrail 2, carried out by Transport for London and Network Rail, have shown overwhelming public support for the railway. This feedback has been used in the development of more detailed proposals. This new consultation now seeks views on the proposed station locations, entrances and exits for the tunnelled section of the route, as well as the proposed locations of ventilation shafts for the tunnelled section. Moreover, the consultation is searching for opinions on the proposed construction sites required to build and operate the tunnelled section of the scheme and the proposed service patterns and changes to existing National Rail services.
Michele Dix, TfL's Managing Director of Crossrail 2, said: "This consultation gives people the chance to comment on where we are proposing to put station entrances, work sites and ventilation shafts needed to run Crossrail 2.  As development of this vital railway continues, we will be taking on board feedback from the consultation to progress the designs for the project, so that we can open the railway by 2030."
Crossrail 2 to boost productivity
 It has been estimated by KPMG that Crossrail 2 could make a significant contribution, worth up to £102bn, to the UK's economy by boosting productivity.
Through the construction and operation of Crossrail 2, some 200,000 new homes, 200,000 new jobs and 60,000 full-time jobs could be supported. Equally, across the UK the scheme would support engineering, construction and manufacturing through its supply chain, driving hundreds of millions of pounds to regional local economies.
Mayor of London, Boris Johnson MP, said: "Crossrail 2 will be a vital new transport link that will significantly improve capacity on the rail network into and out of London. It will also provide a major boost for jobs, new homes and economic growth here in the Capital and far beyond. Crossrail 2 is a major infrastructure project and so it's vital that we get it right from the start. This consultation is key to helping us to fine tune the proposals and to ensure that everyone with a view on Crossrail 2 can have their say and is listened to. We know that there's massive support for Crossrail 2 and there is real excitement and momentum behind our efforts to get it delivered."
Colin Stanbridge, Chief Executive of the London Chamber of Commerce and Industry, added: "Crossrail 2's construction is vital for keeping London moving. The scheme also offers huge potential to unlock new housing opportunities in the Capital. We welcome this consultation as an important step in moving toward delivering extra much-needed rail transport capacity."
Crossrail 2 would greatly reduce congestion and aid potential growth
 The new railway would provide capacity for 270,000 more people to access central London during the morning peak period, with an increase in the number of trains from major destinations across south west London and Surrey, as well as across north east London and Hertfordshire.
Crossrail 2 would also aid some of the most congested lines on the National Rail network, which could be used to run additional longer distance services from Hampshire and Surrey into Waterloo and from Cambridgeshire and Hertfordshire into Liverpool Street, during peak periods. Waterloo alone has seen numbers rise from 86.4m to 98.4m, almost 15 per cent, during the last five years, and significant passenger growth is expected at other key mainline stations. The new railway would support significant growth potential with areas such as Cambridge, Stansted, Basingstoke, Portsmouth and Southampton potentially benefiting.
Beyond the South East, Crossrail 2 will bring more than 800 destinations around the country within one interchange of a Crossrail 2 station, including towns in the Midlands and the North such as Birmingham, Liverpool and Manchester.
Chris Curtis, Network Rail's Head of Crossrail 2, stated: "The launch of this consultation gives rail passengers the opportunity to have their say on what Crossrail 2 would mean for the proposed train services in north east London, Hertfordshire and Cambridgeshire, south west London, Surrey and Hampshire."
Local funding could meet over half of the cost of Crossrail 2
Crossrail 2 needs Government funding and approval to progress. However, independent analysis has found that local funding sources can meet over half of the cost of Crossrail 2. These sources include fares revenue, the Business Rate Supplement and Mayoral Community Infrastructure Levy currently being used to fund Crossrail, and a continuation of the existing Council Tax precept. This local contribution is in addition to increased tax receipts from new economic activity enabled by Crossrail 2, including additional Stamp Duty receipts from the homes unlocked. As a result, the project could generate significantly more tax income for the Government than it spends on the scheme.
The public consultation runs until Friday 8 January 2016. There will be further consultations on Crossrail 2 as the scheme develops. The results of the consultation and the outcomes of the Crossrail 2 Growth Commission are expected in spring 2016 and will inform the submission to the Government for development consent. Subject to Government funding and approval, construction could begin in 2020 with the first Crossrail 2 service running in 2030.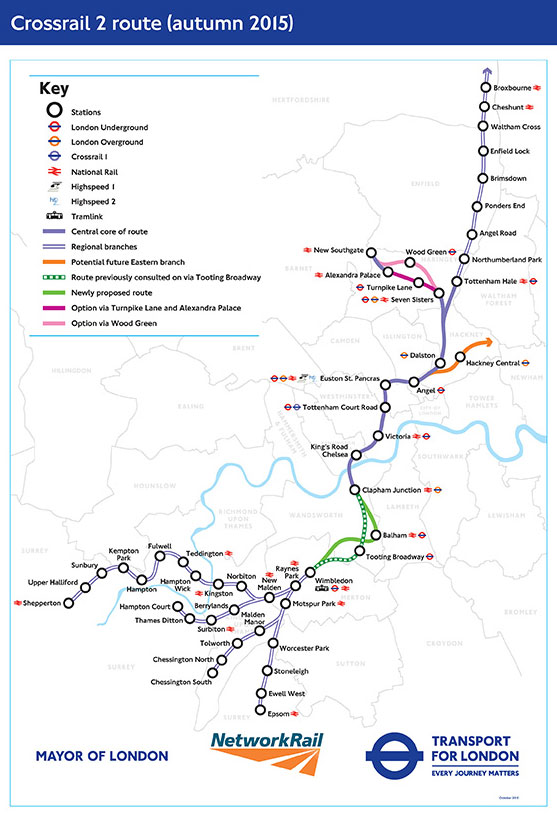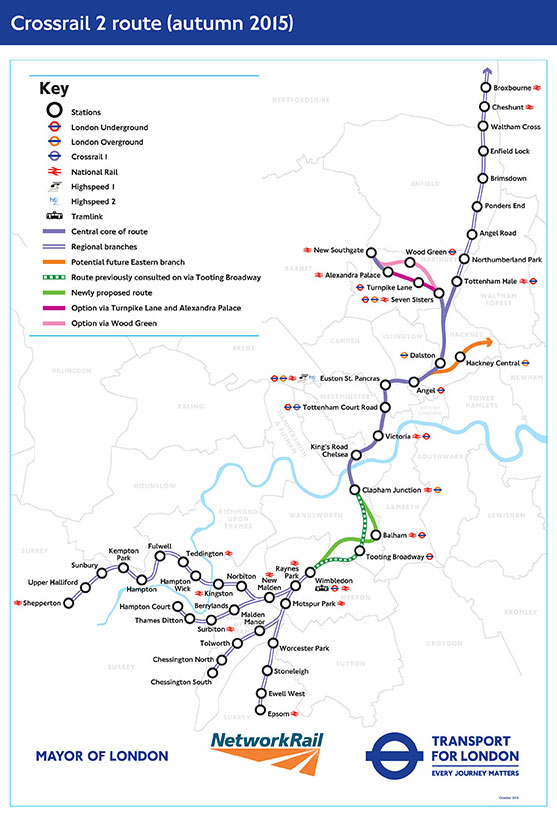 Further information on the Crossrail 2 consultation including maps, dates and locations for drop-in events and details of how to respond to the consultation can be found at www.crossrail2.co.uk