Stadler Rail acquires Vossloh Rail Vehicles
Vossloh AG has signed a €48 million agreement for the sale of is Vossloh Rail Vehicles business to Stadler Rail AG.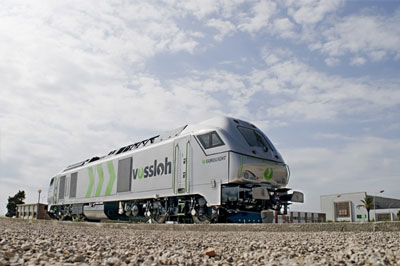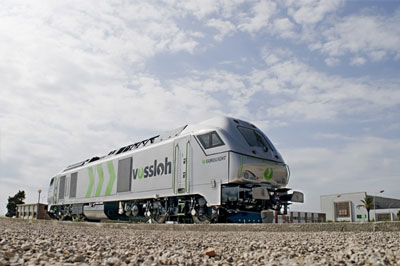 The signing agreeing to sale of Vossloh's Rail Vehicle business to Stadler Rail AG took place in Bussnang, Switzerland. Stadler has acquired business 
activities based in Spain for a cash payment of €48 million and will take over debt liabilities of €124 million. The acquisition is still subject to merger control clearances but is scheduled for completion during the first quarter of 2016. The transfer of Rail Vehicles to Stadler Rail came into economic effect on 1 July 2015.
Transfer of Vossloh Rail Vehicles to Stadler Rail came into economic effect on 1 July 2015
Dr.h.c. Hans Martin Schabert, Chairman of the Executive Board at Vossloh, said: "We are very happy that, with Stadler Rail, we have found a buyer that is experienced in the industry, has a tremendous reputation and is reliable. We are convinced that the expertise, experience and business model of Rail Vehicles and Stadler will ideally complement one another. Rail Vehicles can look forward to the prospect of further development within the Stadler Group."
With its headquarters based in Valencia, Rail Vehicles has operated as one of the three business units for sale in Vossloh's Transportation division. Business operations include the development and production of innovative diesel-electric locomotives and light rail vehicles. In financial year 2014, sales of €223.2 million were achieved and in the first nine months of 2015 sales amounted to €182.4 million. Plans call for Rail Vehicles management and functions to remain in Valencia. It is also intends to strengthen the location as a centre of excellence for locomotive engineering.
Thomas Ahlburg, Deputy Chairman of the Executive Board at Stadler Rail Group, comments: "I am very pleased that through this step we are able to integrate a company that perfectly complements our product portfolio and at the same times enables us to access new markets. In the segment of diesel-electric locomotives Rail Vehicles excels in competitive power and innovation force. Moreover, we can count on a highly experience and motivated management and engineering team."
Vossloh states that it is 'consistently moving forward with the medium-term strategy approved in December 2014'. However, a change of ownership for Vossloh Locomotives in Kiel and Vossloh Electrical Systems, headquartered in Düsseldorf, is not yet tangible. The objective remains that a suitable buyer for both businesses will be found by the end of 2017. Until that time, Vossloh will pursue all measures to further develop the potential of these businesses.