Northern Rail installs station Smart Wall
Northern Rail's newly developed Harrogate Station has introduced an interactive Smart Wall designed to allow customers to purchase tickets and view rail and local area information. The technological Smart Wall focal point has been introduced at Harrogate Station in Yorkshire as part of a current £1.2m improvement programme to redevelop the station. The new interactive […]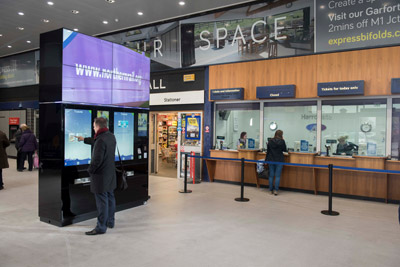 Northern Rail's newly developed Harrogate Station has introduced an interactive Smart Wall designed to allow customers to purchase tickets and view rail and local area information.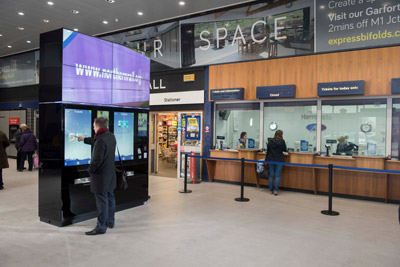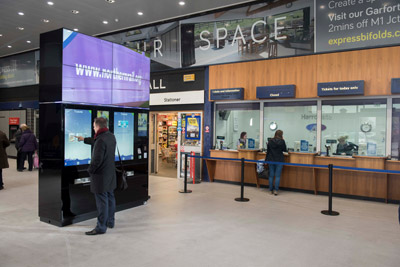 The technological Smart Wall focal point has been introduced at Harrogate Station in Yorkshire as part of a current £1.2m improvement programme to redevelop the station. The new interactive initiative will provide a modern approach to retailing.
The Smart Wall features state of the art technology to sense when a customer is approaching and it will then automatically move the interactive ticket touchscreens up or down so that the screen is level with the customer's eye level when using it.
It will also include large video screens on either side of the wall; one side will give customers information on trains, social media updates, news, weather and information about the local area, and the other side will be used for advertising local events and companies.
"The Smart Wall is the centrepiece of the new-look Harrogate station"
The Smart Wall has been developed thanks to a six-figure investment by Northern Rail and designed in conjunction with the operator's ticketing partner Parkeon. Owned by a joint venture between Serco and Abellio, and Parkeon, the wall measures three metres in height and two metres in width and features two Ticket Vending Machines (TVMs) that use interactive ticket touchscreens to make buying and collecting tickets quick and easy for customers.
A key feature of the wall is the use of facial detection technology to recognise when a customer is ready to use the machine and automatically adjust the screen to match the user's height. Other features include a second, smaller video screen that could be used in future to link to a virtual call centre to give customers help when they need it.
Richard Allan, Commercial Director, for Northern Rail, said: "The Smart Wall is a fantastic innovation for our customers to make it quicker and easier to buy their travel.
"This is just one part of our drive to modernise the way we sell travel. The Smart Wall is the centrepiece of the new-look Harrogate station and will be a great focal point for commuters and visitors arriving in the town."
Owen Griffith, Managing Director of Parkeon Transit, said: "We are delighted to see the results of the close collaboration between Northern Rail and Parkeon. It has been great working with such a forward-looking team and we hope that all those using the station will find this innovative technology really beneficial."