Open level crossings barrier programme complete
A programme designed to fit more than 60 open level crossings with barriers is now complete, improving safety and reducing the risk of a road vehicle collision with a train. Network Rail has fitted 66 'open' level crossings with a new modular barrier system to improve safety. The last of the open level crossings were […]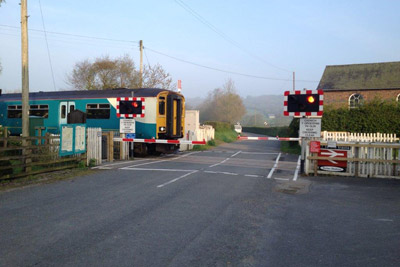 Dolau (Wales) level crossing. Previously open now fitted with barriers
A programme designed to fit more than 60 open level crossings with barriers is now complete, improving safety and reducing the risk of a road vehicle collision with a train.
Network Rail has fitted 66 'open' level crossings with a new modular barrier system to improve safety. The last of the open level crossings were brought into use this month at Brewster Lane and Matt Pitts Lane in Skegness, Lincolnshire.
Following a fatal accident at Halkirk level crossing in Scotland in 2009, a Rail Accident Investigation Branch report identified automatic open level crossings (AOCL) as those with the highest risk of a collision on public roads, and Network Rail began work to find an innovative solution to upgrading those open crossings with the highest risk.
66 open level crossings fitted with a new modular barrier system
A programme was established enabling barriers to be retro-fitted to the existing signalling system instead of converting the conventional barrier design. The first new barrier was fitted in 2012 at Ardrossan Harbour in North Ayrshire with 65 others installed at the highest risk AOCLs across Britain.
In addition, Network Rail is continuing to improve safety at level crossings including work to improve sighting at 1,100 crossings, fit 494 with brighter LED lights and incorporate 113 crossings with spoken audible warnings to announce when "another train is coming" after one train has passed through.
Graham Hopkins, Network Rail director of safety said: "If we can't close a level crossing, we'll look to make it safer. By finding a new, more cost-effective solution to upgrading open crossings with these add-on barriers, we've been able to make 66 level crossings significantly safer than they were before, and reduce the risk of any further tragic accidents like the one at Halkirk.
"We're continuing to invest around £100m to improve safety at level crossings and have closed almost 1,000 since 2010 and upgraded and improved hundreds more as part of our Railway Upgrade Plan. We have the safest railway in Europe and there hasn't been an accidental level crossing fatality on our railway since February 2015, the longest period since this programme began. However we cannot be complacent and will continue to work every day to improve safety at level crossings and keep people safe."
Related topics
Related organisations