Abellio awarded East Anglia rail franchise
Operator Abellio has been named winning bidder of the East Anglia rail franchise from October 2016 for nine years.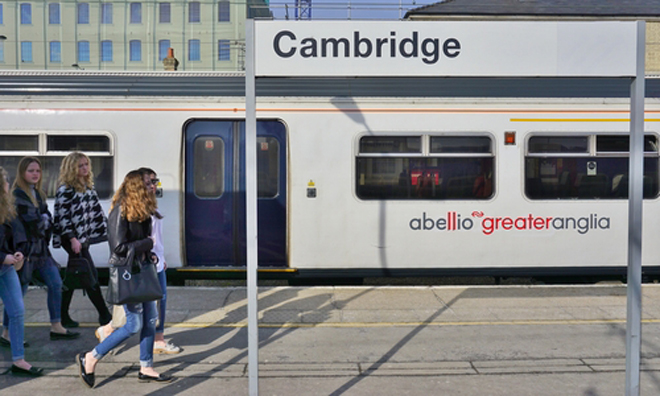 The Department for Transport (DfT) has announced Abellio East Anglia will run the franchise from October this year until 2025. The operator promises to deliver faster, more frequent journeys along the route from London – Cambridge and Peterborough – Norwich by providing more than 1,040 new state of the art carriages, between January 2019 and September 2020, cutting journey times by an average of 10 percent. In the interim, the current fleet will undergo a full programme of refurbishment.
Abellio East Anglia promises to cut journey times by an average of 10 percent
Today's announcement follows a competitive bidding process which saw Abellio contend with fellow operators FirstGroup and National Express. Abellio will now oversee the £1.4 billion investment to local rail services.
New ticketing initiatives for part time workers
Benefits outlined in the new franchise include four 90-minute services (2 in each direction) between London and Norwich each weekday and two 60-minute services per day between London and Ipswich, free Wi-Fi for all passengers on trains and at stations, automatic 'delay repay' for season and advance purchase tickets and new ticketing initiatives specially designed for those who don't travel every day.
Bombardier will also benefit from an investment of over £1 billion for the supply new trains which will be built at its plant in Derby. The DfT believes this will secure 1,000 jobs into the next decade.
In addition the government has announced tough new targets for operational performance levels at 93 percent – up from 89.7 percent currently.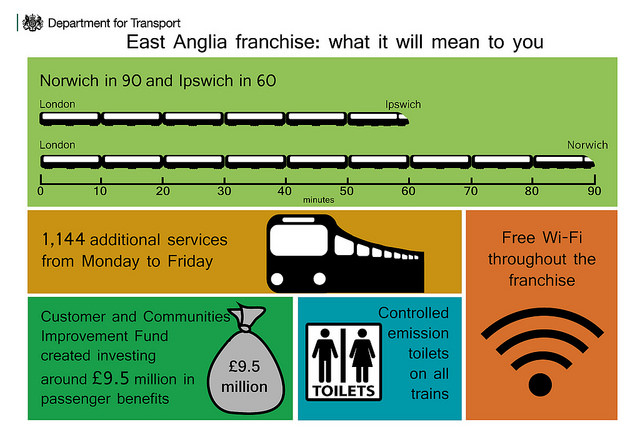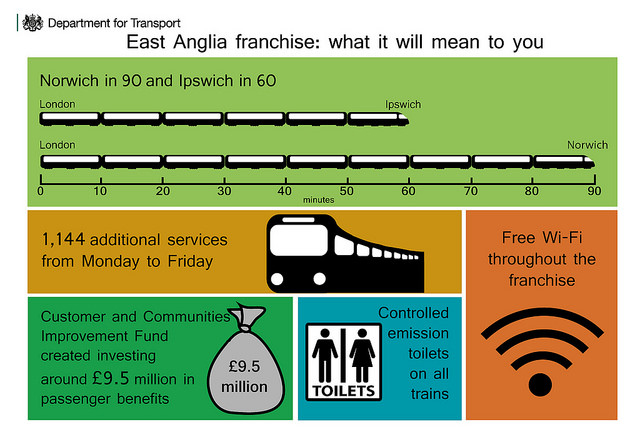 Commenting on the award, Transport Secretary Chris Grayling said: "We are making the biggest investment in the railways since the Victorian era. By awarding this franchise to Abellio East Anglia we will improve journeys for people in East Anglia.
"Abellio's decision will ensure our train building industry in Derby remains strong.
"This is part of our plan to make an economy that works for everyone – not just the privileged few – by ensuring prosperity is spread throughout the country."
"Our plans will greatly improve our customers' experience with faster and more reliable journeys on new trains with higher frequencies and reduced journey times"
Dominic Booth managing director of Abellio UK said: "This is great news not only for Abellio but for the whole of East Anglia. We are pleased to become preferred bidder to deliver a transformation in rail services across the region.
"It will enable us to build on the successes of the 2 short East Anglian franchises we have run since 2012, and we commend the DfT in running a transparent and rigorous procurement process.
"Our plans will greatly improve our customers' experience with faster and more reliable journeys on new trains with higher frequencies and reduced journey times, to support the socio-economic well-being of East Anglia, one of the country's most successful and fastest growing areas.
Des McKeon UK Commercial Director at Bombardier Transportation added: "We're delighted to be chosen, pending final contract signing, as the preferred supplier for new trains for the East Anglia franchise. We look forward to working with our customer the Abellio UK, to support them in transforming rail services throughout the region and delivering an enhanced customer experience through the provision of new trains.
"It's a great endorsement of Bombardier's next-generation AVENTRA train family, which offers maximum flexibility, to serve many different market requirements from metro to intercity."
Reacting to the decision, a FirstGroup spokesperson said it was "disappointed not to have been awarded the East Anglia rail franchise after submitting a compelling, deliverable, and value for money bid.
"We continue to be disciplined in our approach to bidding for UK rail contracts and will seek feedback from the Department for Transport to help shape our approach to future competitions."
Responding to the announcement, Lianna Etkind, Public Transport Campaigner, Campaign for Better Transport, said: "We need to see full details of the new franchise but passengers will be encouraged by promised investment in new trains to tackle overcrowding and to speed up the more ponderous services like London to Ipswich and Norwich.
"It's also encouraging that from 2017 there will finally be tickets for part time commuters, who we hope will be able to enjoy the same discounts as those that work 5 days a week. 75 per cent of part time workers are women, and we want to see an end to discriminatory ticketing across the whole network, not just in this particular franchise.
"It's disappointing, however, that the franchise doesn't allow for new stations and lines to serve new developments and large places like Wisbech that are off the rail network. The area served by this franchise is seeing very high growth and a lot of development and we hope the operator will work with local authorities to fund rail expansion".