Work on Chicago Union Station is now underway
Users of Chicago Union station will soon enjoy a Great Hall painted in its original colours, and made brighter by a restored and protected skylight with improved lighting.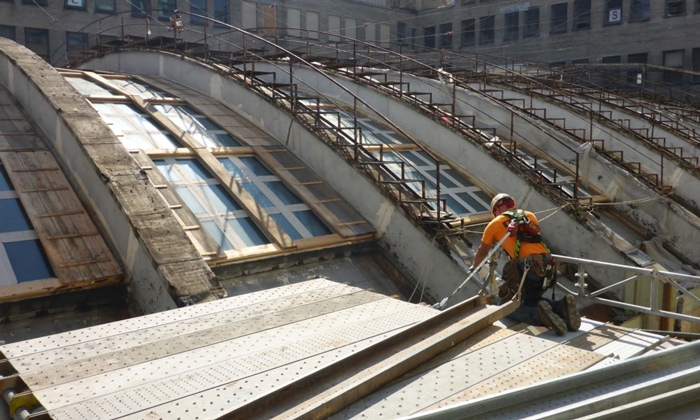 The $22 million project on Chicago Union Station, which is now underway, has been self-funded by Amtrak. It has been designed by architect Goettsch Partners (GP) and contractor Berglund Construction to minimise disruption to the flow of people through the station, with the construction team devising a creative solution to maintain access to the Great Hall by using a suspended working deck and swing stages, in lieu of scaffolding, to allow customers to move freely below.
A crane that has been erected on Clinton Street is being used to move materials through the building and above the Great Hall in Chicago Union Station and the painting and plaster repairs have been divided into phases, to further provide full customer access to the Great Hall during the repairs.
Working with Amtrak, a team from GP, Klein & Hoffman and Environmental Systems Design has completed an investigation of the space within the Great Hall to determine the extent of repairs needed while respecting the historic nature of the building. The investigation concluded the original barrel-vaulted skylight was not designed to adequately keep water out and no longer met current codes, so an upgrade was necessary.
To maintain the historic appearance of the skylight and to overcome the existing drainage system, the team will construct a modern energy-efficient skylight above the historic skylight. The new skylight will protect the historic skylight with a new drainage design and maintenance system.
When finished, natural light into the Great Hall is expected to increase by about 50 percent by replacing the 2,052 pieces of glass in frames that had been made bigger over the years in a failed effort to prevent leaks in the historic skylight.
The aim is to complete the project by late 2018.
Related topics
Related organisations
Related regions