Israel Railways increase fleet of TWINDEXX Vario coaches to 512
Bombardier accept sixth order from Israel Railways, supplying 54 additional TWINDEXX Vario double-deck coaches to the fleet…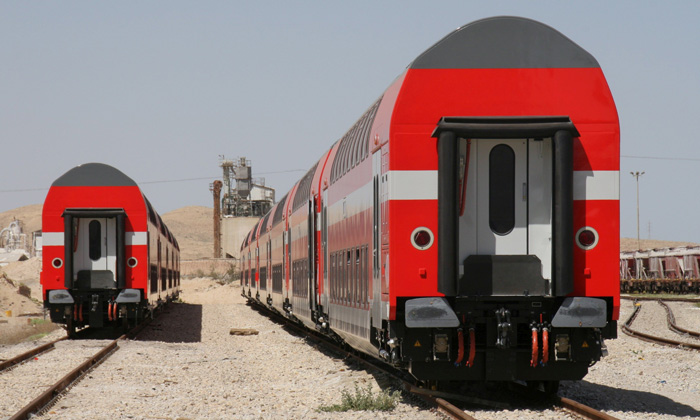 To run on Israel Railways' (ISR) first electrified line, Bombardier Transportation is to provide 54 additional BOMBARDIER TWINDEXX Vario double-deck coaches. The contract is valued at approximately €104 million and delivery of the new coaches is expected to be completed by August 2020.
"The new coaches will be fully compatible for revenue operation on ISR's first electrified line, the A1, which connects Tel-Aviv and Jerusalem. The necessary technical adjustments required to enable the trains to operate in tunnels and on electrified lines were developed by both companies. We also considered local and international standards to ensure and further increase safety for both operator and passengers, while keeping comfort in mind," said Avi Zalman, Head of Development and Engineering Rolling Stock Division, Israel Railways.
The new order consists of 11 control cars, 11 intermediate coaches with dedicated space for people with reduced mobility and 32 trailer cars. The control cars will no longer use diesel generators to feed auxiliary systems because the BOMBARDIER TRAXX locomotives that ISR already own provide more than enough power for both traction and auxiliaries. Additionally, the driver's desk in the control car will be re-designed to be identical to the TRAXX electric locomotives' desk.
Yossi Daskal, Chief Country Representative Israel, Bombardier Transportation, said: "Israel Railways' vision of an electrified network is becoming a reality. Their ongoing modernisation with our double-deck coaches will continue to meet the increasing need for public transport."
The single-car concept enables ISR to configure the loco-hauled trainsets according to the required capacity. Each of the eight-car trains currently in service feature seating capacity for 1,000 passengers; alleviating congestion in Israel.
As a full solution provider, Bombardier Transportation operates a service depot in Haifa where the existing 293 double-deck coaches are being upgraded for a speed of 160 km/h and for electric traction. ISR and Bombardier have started static and dynamic tests on the new TRAXX electric locomotive to ensure the delivery in March 2018.