New approach to sanding dramatically reduces braking distances
Safety, speed of travel and reliability of the rail service will all be improved by the new technology in double variable rate sanders…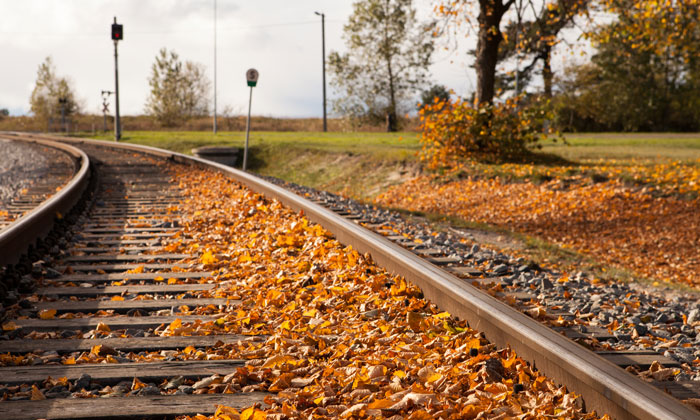 According to research by rail safety body RSSB, double variable rate sanders on trains could eliminate worries caused by slippery conditions or leaves on the rail.
The new approach to sanding uses double variable rate sanders which automatically apply more sand between the wheel and the rail when braking at higher speeds; dramatically reducing braking distances.
RSSB undertook a three-month programme of track testing in collaboration with industry partners using two new Class 387 trains loaned by Great Western Railway. A dataset was created from over 220 test runs covering various configurations of sanders, test speed and train length.
The results demonstrated that using multiple and variable rate sanders significantly improves braking compared with the current fixed rate sander configuration. In particular, using two variable rate sanders can improve stopping distances on a 4-car train by approximately 50 per cent.
Double variable rate sanders provide an assured 6 per cent braking performance, an important measure as it is the basis for timetable planning on most routes.
Using double variable rate sanders can also reduce signals passed at danger (SPADs), due to low adhesion conditions, by 98 per cent including low adhesion station overruns by 96 per cent. Great Britain's rail services were delayed by over 350,000 minutes due to low adhesion conditions last year, causing delays to millions of passengers and services. Reliable braking in low adhesion conditions could deliver a significant reduction in costs which are currently valued to exceed £300 million per annum.
By improving the consistency of train braking in low adhesion conditions, double variable sanders are also a key enabler to increasing capacity.
RSSB's Mark Philips, CEO, RSSB, said: "Passengers rightly expect trains to run on time and these results will help operators run a more reliable service regardless of weather conditions. Double variable rate sanders will help trains brake better in the autumn when leaves cause problems. Having proved the technology and the benefits, we will now work with the industry to promote the upgrading of sanders to maximise the benefits they can deliver."
Related topics
Related people