Solihull's planned HS2 Interchange station receives generous funding
The potential hub would put the West Midlands at the heart of the HS2 network, not only boosting rail capacity and improving journeys, but also providing thousands of new jobs and homes in the surrounding area …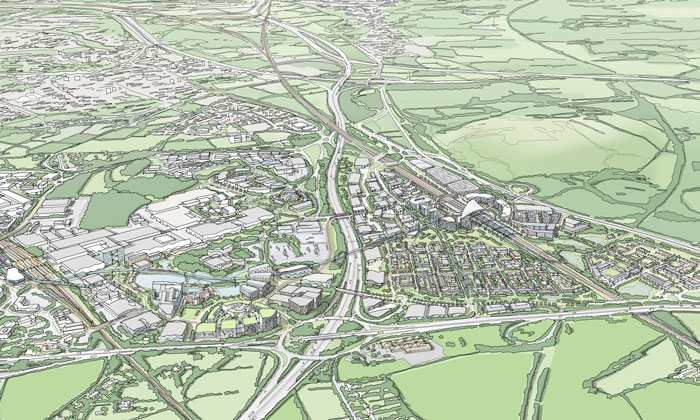 Funding has been secured for a new, high-quality, sustainable urban quarter around the planned HS2 Interchange Station in Solihull.
The principles of designing new infrastructure and transport connections at the site were agreed, with a final deal to be signed by the end of March 2018.  
The Urban Growth Company (UGC), established by Solihull Council, has worked with the council to secure £9.8 million of Devolution Deal funding from the West Midlands Combined Authority (WMCA), enabling HS2 Ltd to design the changes. 
UGC Chairman, Nick Brown said: "We've always said The Hub area has the potential to drive nationally-significant economic growth – but only if the vision for the Interchange Station site was sufficiently ambitious. That's why we'll continue to work hard with the WMCA and HS2 Ltd – to make sure these new plans for the Interchange Station site match that ambition and are future-proof." 
The UGC and Solihull Council have also reached the basis of an agreement with HS2 Ltd about how the design process will be managed and delivered over the next two years. This lays the foundation for major development at the site near the NEC and Birmingham Airport, known as Arden Cross. 
This includes the development of a plaza and public transport interchange, creating a significant sense of arrival at the new HS2 station. Current surface car parking will be replaced with multi-storey car parks to produce more available land for development and pedestrian links will be improved.
The changes support reduced journey times on the automated people mover connecting Birmingham Airport, the NEC, Birmingham International Station and the HS2 Interchange Station whilst creating jobs, new commercial space and homes. 
Councillor Ian Courts, Deputy Leader of Solihull Council, commented: "This means we can make the most of HS2's arrival and deliver up to 77,500 new jobs, 775,000 sq metres of commercial space, 4,000 new homes and generate £4.1 billion every year as a result."
Construction of the design changes is expected to be funded by further Devolution Deal HS2 Growth Strategy funds and will be subject to the necessary planning approvals.