Progress begins on Savannah's Mason Mega Rail Terminal project
The new Mason Mega Rail infrastructure project is part of a comprehensive expansion plan that will double the port of Savannah's rail capacity…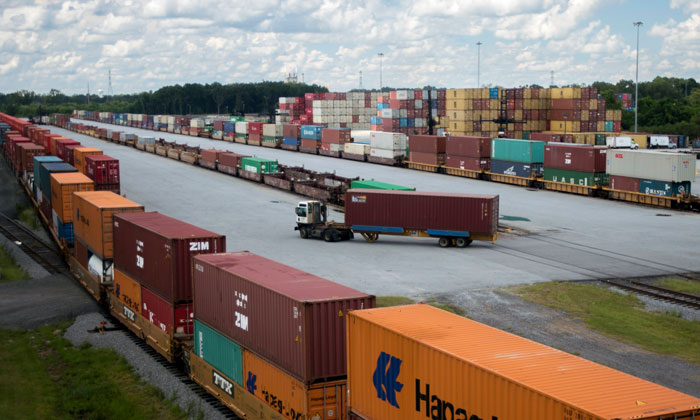 The Georgia Ports Authority has broken ground on its $126.7 million Mason Mega Rail Terminal.
The planned expansion will increase the Port of Savannah's rail lift capacity to 1 million containers per year and open new markets spanning an arc of cities from Memphis to St. Louis and Chicago to Cincinnati. 
Georgia Governor, Nathan Deal, said: "Not only will this new intermodal facility take trucks off the road and bring our products to market with greater efficiency, but it will open a new corridor for American commerce to and from the Midwest." 
The progression of the Mason Mega Rail project is the latest in a series of signature projects designed to make Georgia the transportation and logistics hub of North America. This includes the recent announcement of a 50 per cent completion of the Savannah Harbor Expansion Project, a new inland terminal in Northwest Georgia and a $10 billion state-wide transportation improvement plan. 
"The Mason Mega Rail project will expand rail capacity by 100 per cent while reducing impacts on the local community and supply chain," said Georgia Ports Authority Executive Director, Griff Lynch. 
When complete, Garden City Terminal will have a total of 180,000ft of rail, 18 working tracks and the capability of building 10,000-foot unit trains on terminal. This will allow GPA to bring all rail switching onto the terminal, avoiding the use of nearly two dozen rail crossings for improved vehicle traffic flow. 
GPA estimates that the new intermodal terminal will take more than 200,000 trucks off the road annually. 
"This project is a game changer," said GPA Board Chairman, Jimmy Allgood. "Our team estimates the Mason Mega Rail Terminal will slash rail time to the Midwest by 24 hours and present a viable new option for many manufacturers, shippers and logistics professionals." 
In the first half of 2018, work will focus on constructing a pair of rail bridges that will carry seven tracks connecting two existing intermodal container transfer facilities. GPA officials estimate project completion to be in the autumn of 2020.
The Mason Mega Rail expansion is funded in part by a $44 million U.S. Department of Transportation FASTLANE grant administered by the Maritime Administration.
Garden City Terminal is already the South Atlantic region's busiest intermodal gateway, handling 38 trains per week of import and export cargo. Once the Mason Mega Rail terminal is complete, the Port of Savannah will have a state-of-the-art facility, unique to the U.S. East Coast.