Ashford International welcomes the first modern high-speed train en-route to Paris
The recent multi-million pound works at Ashford International station included state-of the-art signalling equipment and will provide economic and social benefits to the area…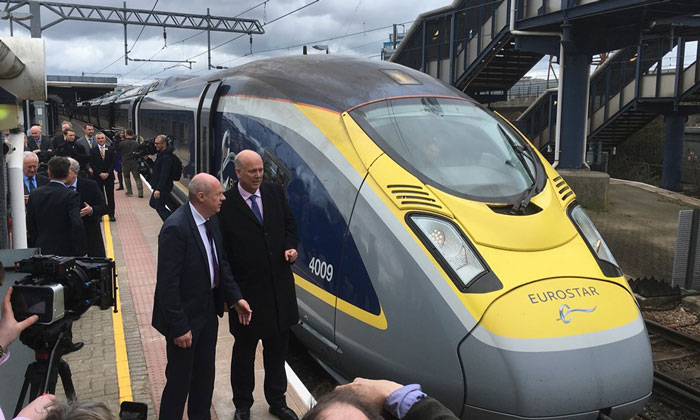 The first of Eurostar's new Siemens e320 class train, on the way to Paris, arrived at Ashford International station and marked the culmination of a £10 million project.
The project included the installation of new signalling equipment and the adaptation of Ashford's international platforms for new trains.
The first in the fleet of brand new high-speed trains was met by Transport Secretary Chris Grayling who visited the town to see the completion of the work.  
Chris Grayling said: "We are investing in the biggest modernisation of our railways since Victorian times. This includes significant signalling and station upgrades to enable this new fleet of high-speed international services to stop at Ashford, offering a massive boost to the local economy. And with the London to Amsterdam service starting it will also make international travel between here and the continent quicker and more convenient for travellers."
The project has been delivered by Network Rail and backed by Kent County Council and Ashford Borough Council, with funding from the South East Local Enterprise Partnership through the Local Growth Fund.
Geoff Miles, the Vice Chair of South East Local Enterprise Partnership and Chair of the Kent & Medway Economic Board, said: "The foresight to invest in futureproofing vital transport infrastructure is at the heart of every strong economy. The Ashford signalling project maintains Kent's international connections and as we move toward Brexit, it is going to be projects like this that secure our economic future."
Network Rail's Route Managing Director in the South East, John Halsall, said: "Our partners have put their faith and investment in the industry to deliver this project, which will future-proof the town's station and preserve its status as part of Europe's high-speed network. High-speed rail and links to Europe have given Ashford a huge boost over the past 22 years and we are pleased to be working with Eurostar and local authorities to keep that going."
Mike Cooper, Chief Executive of Eurostar, said: "The modernisation of Ashford International will allow even more of our passengers to benefit from our state-of-the-art new fleet. Our e320 trains bring the ultimate in style and comfort alongside the latest in on-board digital connectivity for both business and leisure travellers."