At Ashford International work begins to welcome e320 Eurostar trains
Work has begun to prepare Ashford International's high-speed platforms for new international trains which will safeguard direct high-speed international services from Ashford…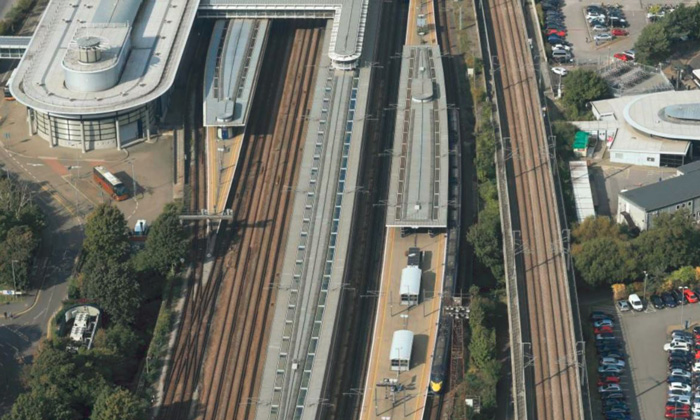 The work on Ashford International platforms is to prepare for the operation of new international trains on the line, including e320 Eurostar trains.
Network Rail commenced the installation of new signalling equipment to allow Eurostar's e320 trains – and potentially next generation high-speed trains from any other operator, to access the station. Now the firm's engineers are updating the international platforms to match European-width trains.
Network Rail's Senior Commercial Scheme Sponsor, Mark Ellerby, said: "The work we are doing with new signalling equipment and the platforms will future-proof the town's station and preserve its status as part of Europe's high-speed network – one of only four stations in the country to have that honour.
The work is part of a £10 million project being delivered by Network Rail and backed by Kent County Council and Ashford Borough Council, with funding, through the Local Growth Fund, from the South East Local Enterprise Partnership.
Councillor Gerry Clarkson, Leader of Ashford Borough Council, said: "This multi-million pound investment in state-of-the-art signalling equipment at Ashford International will secure the long-term future of Ashford's place on the European rail map.
The first of Eurostar's new e320 trains is set to call at Ashford from April 2018, using the amended platforms and the signalling system.
Councillor Matthew Balfour, Kent County Council's Cabinet Member for Transport, said: "This investment at Ashford International will ensure that Kent continues to be served by European rail services at both its international stations.
The upgrades at Ashford International will ensure the comfort and style of e320 trains to be experienced by more customers. The trains will incorporate a more spacious surrounding, free Wi-Fi and through the Eurostar app, over 300 hours of entertainment on-board.