Texas Central has announced a new project manager for the Bullet Train
Bechtel, the largest construction company in the U.S., has agreed to work with Texas Central on project management services regarding the Texas Bullet Train…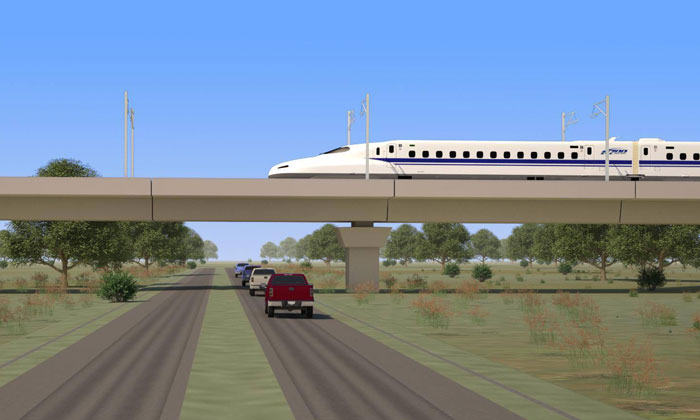 Texas Central and Bechtel will work together on project management services; supporting the project's implementation phase and enforcing industry expertise onto the Houston-North Texas line.
Bechtel has completed more than 300 major rail projects, including the Channel Tunnel High Speed 1 and London's Crossrail. The company is able to support Texas Central in managing the Bullet Train project as it moves from development to implementation.
The investor-led project is a 200mph train that will connect the state's largest cities in 90 minutes, with a midway stop in the Brazos Valley.
"We're putting all of the elements together, building towards the expected 10,000 direct jobs each year during construction. The addition of Bechtel, with its experience in train and mega-infrastructure projects, is another sign of the expertise this project is attracting and leveraging," said Texas Central CEO, Carlos Aguilar.
The partnership occurred after Texas Central selected Fluor Enterprises and The Lane Construction Corporation to perform pre-construction planning with engineering support from WSP.
"We look forward to using our international high-speed train experience to progress this transformative project in the United States. The high-speed connections will begin a new era of travel and convenience for riders," said Scott Osborne, Bechtel's Infrastructure General Manager, Americas.
Texas Central, Fluor, Lane and WSP are refining and updating construction planning, sequencing, scheduling, cost estimates and other design and engineering activities, which is being guided by the Federal Railroad Administration's 'Draft Environmental Impact Statement' (DEIS) on the project.
Teams of technical experts are continuously working on the project as the environmental assessments, engineering, design and other work enters a new phase.
The DEIS, for the first time, outlined a single, preferred route between North Texas and Houston, identified passenger station locations and recognised the train system's low-impact design and construction principles. It cited many factors in support of the project, saying the train would "alleviate the strain" on Texas' infrastructure and "is needed to accommodate growing demand."