Hybrid supercapacitors are being developed to power rolling stock
Two companies are working together in the development of supercapacitor technology that could benefit the rail sector globally…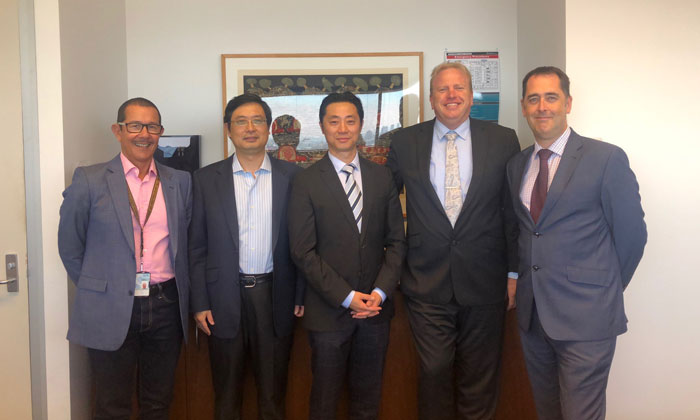 David Beins, Deputy Director Research Engagement – UTS, Distinguished Professor Guoxiu Wang, Lead Researcher – UTS, Dr Shuwei Wan, CEO – HEC Group Australia, Dr Stuart Thomson, CEO – Rail Manufacturing CRC and Martin Lloyd, Acting Director Research and Innovation Office – UTS, at the project agreement signing in Sydney
A new project developing hybrid supercapacitors to power rolling stock, run by the HEC Group and University of Technology Sydney (UTS), will be overseen by the Rail Manufacturing Cooperative Research Centre (CRC).
This new scheme, the second Rail Manufacturing CRC-funded project between the HEC Group and UTS, aims to develop a hybrid supercapacitor with high energy and power densities, and advanced supercapacitor management systems.
It follows on from the project developing lithium ion batteries for rail vehicle propulsion, regenerative braking, signalling systems and auxiliary applications.
"Supercapacitors have the potential to revolutionise the rail industry – these technologies could reduce the need for overhead electrical infrastructure and aid the future development of hybrid-powered trains," said Dr Shuwei Wan, CEO, HEC Group Australia.
The new technology will effectively provide voltage stabilisation for rail systems; advancing the locomotive engine starting technologies and improving the performance of propulsion for light rail vehicles.
"This project is looking to develop a supercapacitor with an enhanced energy density through changes to cell chemistry, with hybrid supercapacitors expected to eventually form a large part of the energy storage market," said Lead Researcher, Distinguished Professor Guoxiu Wang, Director of the UTS Centre for Clean Energy Technology.
Powering rolling stock requires energy storage devices to be robust and reliable, with long service life and low maintenance. In response, supercapacitors can charge and discharge very quickly, for up to 100,000 cycles.
"The development of enhanced supercapacitor technologies not only benefits the Australian industry, but the global rail market as a whole," commented Dr Stuart Thomson, CEO, Rail Manufacturing CRC.
Worth approximately $5.5 million, the project is expected to finish by 31 December 2019.