Associations will present the strengths of their countries' rail industries
A total of 23 national and international associations from countries including Australia, Denmark, the UK, Romania, Sweden and the Czech Republic will be presenting their individual capabilities at InnoTrans 2018.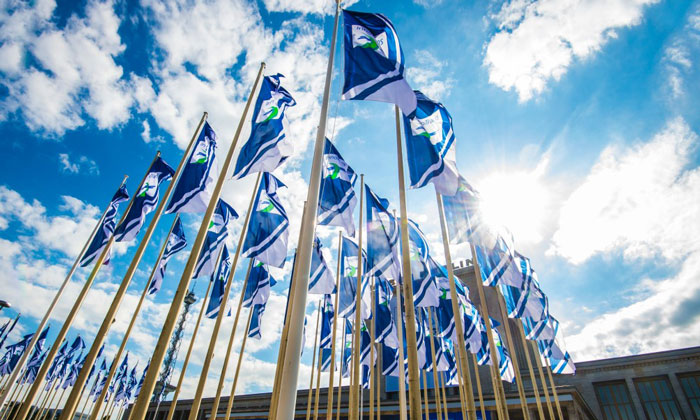 Credit: InnoTrans
During the preparations for InnoTrans these associations have been dealing with many of the organisational arrangements for the booths and travel to this event, putting their exhibiting members in the best possible position to face the worldwide market.
On the Berlin Exhibition Grounds, from 18-21 September 2018, trade associations and federations will combine the interests of their members, representing them in dealings with politicians, authorities and the media; actively supporting member companies on international markets, at InnoTrans 2018.
Under the aegis of the SWISSRAIL Industry Association, 46 of its over 100 member firms will be represented on more than 1,000 square metres of display space at InnoTrans. Spread over two combined stands in the Railway Technology and Railway Infrastructure segments of the trade fair, the displays by Swiss manufacturers of vehicles and components, as well as service providers, will cover every aspect of rail transport.
General Manager, Michaela Stöckli is eagerly awaiting the four-day trade show. "We are expecting a record number of visitors and, as always, some fascinating and very interesting discussions. We are looking forward to some hectic activity and the convivial company of many familiar faces and, of course, some new ones too. It goes without saying that we are also keen to see what our 'competitors' are up to, both in terms of their products as well as their innovative booth designs," she said.
Another long-term exhibitor at InnoTrans is the Spanish industry association MAFEX, with over 70 member firms, almost half of which are attending.
In Hall 4.2 the Association of the European Rail Industry UNIFE will be representing 14 national rail industry associations and 95 direct member companies.
From further afield there will be the representatives of business associations from the U.S., with REMSA (Railway Engineering-Maintenance Suppliers Association) and from Japan, with JORSA (Japan Overseas Railway System Association), demonstrating the competitiveness of their countries' industries. The 'Japan Hall' is now a regular feature of the event. With 13 member firms, JORSA is again occupying the whole of Hall 7.2a this year. The member companies Fuji Electric, Hitachi, Hitachi Nico Transmission, J-TREC, Kawasaki Heavy Industries and Toshiba Infrastructure Systems & Solutions Corporation also have their own booths on the exhibition grounds.
Related topics
Related regions
Related people