InnoTrans 2018: Keeping passengers happy by keeping it clean
A range of countries will demonstrate the innovations related to keeping train interiors and exteriors clean, therefore ensuring a satisfied passenger…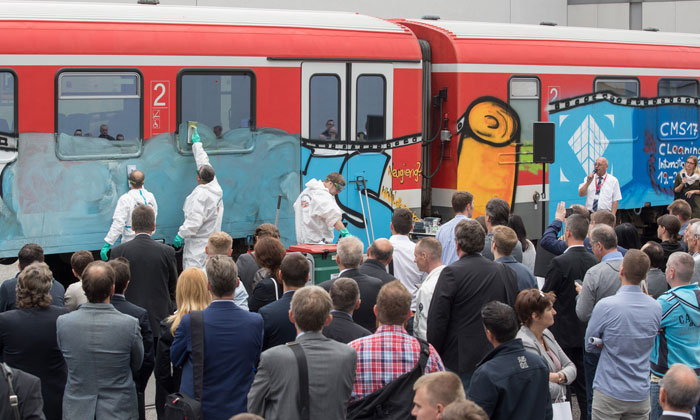 Credit: InnoTrans
For many organisations, improving the passenger experience is a key focus. Consequently, today's transport companies are coming up with a variety of ideas, aiming towards creating a pleasant and clean atmosphere within the rail network.
In Japan it takes seven minutes to clean the Shinkansen, in Austria train toilets are decorated with photographic wallpaper and fragrant aromas, while in Switzerland, digitalisation is on the march with robots being used to clean station floors. In Germany, customers can use WhatsApp to provide the railway operators with up-to-date details about areas that require cleaning.
In hall 7.2 c, leading companies from Finland, the Netherlands, Sweden, Singapore, France, Austria, Spain, the United Kingdom, Italy and Germany are demonstrating how train interiors and exteriors can be expertly cleaned. The range of products includes toilet waste disposal systems and washing facilities as well as cleaning, care and disinfectant products.
The Italian company, Bitimec, has booked almost twice as much floor space at the coming InnoTrans. Garrandale Rail from the UK, TEIJO Pesukoneet from Finland and Glogar Umwelttechnik from Austria are all displaying their products for the first time, aiming for international sales.
A representative from Glogar Umwelttechnik said: "In addition to a cleaning gel for very dirty surfaces and underfloor areas on rail vehicles, we will also be displaying a neutral rust remover as well as a gel-type acidic rust film and graffiti remover. Our objective is to acquire customers all over Europe."
The Finnish company, Teijo Pesukoneet, commented: "InnoTrans provides us with a great opportunity to address business partners from all over the world at one single event. The rail sector is a growing market for our products. Here at the trade fair we are displaying a new generation of single and multi-stage cleaning machines. These machines are intended for use in repair shops and for more demanding cleaning purposes."