Tender launched for Network Rail's £5 billion railway track contracts
The maintenance and renewal of Britain's 20,000 miles of track forms part of Network Rail's Railway Upgrade Plan, which sees £130 million invested every week…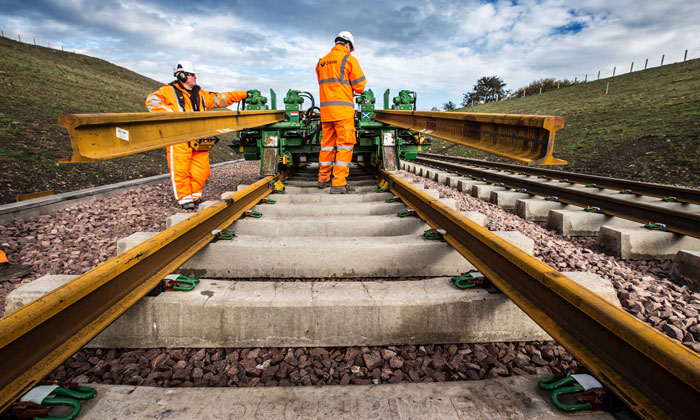 Network Rail has invited suppliers to bid for the next generation of track work contracts, the largest of its kind being undertaken for the upcoming funding period.
The start of the tender process, which is valued at up to £5 billion, began with a contract notice issued in the Official Journal of the European Union (OJEU); opening the contracts up to interested suppliers.
These contracts cover 10 years of railway track works starting in 2019 and introduce three new geographically-focused alliances between Network Rail, designers and construction suppliers.
These alliances are North Alliance (Scotland route), Central Alliance (London North West, London North East and East Midland routes) and South Alliance (Anglia, South East, Wessex, Western and Wales routes) and will combine the development, design and delivery of plain line track, switches and crossings, as well as associated infrastructure works.
This step sees plain line, switches and crossing brought together operationally and commercially as a means of delivering infrastructure works more efficiently and effectively for customers: A key component of Network Rail's Infrastructure Projects CP6 procurement strategy. This aims to promote collaborative arrangements with the supply chain that offer customers better value for money.
Steve Featherstone, Network Rail's Director for Track, said: "Combining our plain line expertise with that of switches and crossings will bring huge benefits to both our route customers and the wider supply chain. The proven alliance model offers a flexible and cost effective solution with a greater focus on each route's specific requirements and needs."
Given the large scale and long-term nature of the contracts, prospective bidders will be expected to exhibit their commitment to delivering value through a pursuit of excellence, highly innovative approaches and a demonstrable track record of success in collaborative environments. Potential bidders are invited to submit their Expressions of Interest via BravoNR in accordance with the details provided in the contract notice. The pre-qualification period for the tender will start in June 2018.