Network Rail uses drones to improve safety on south western rail network
Evidence of illegal trespassing and unsafe infrastructure will be captured by the drones and the information sent to the relevant authorities for action.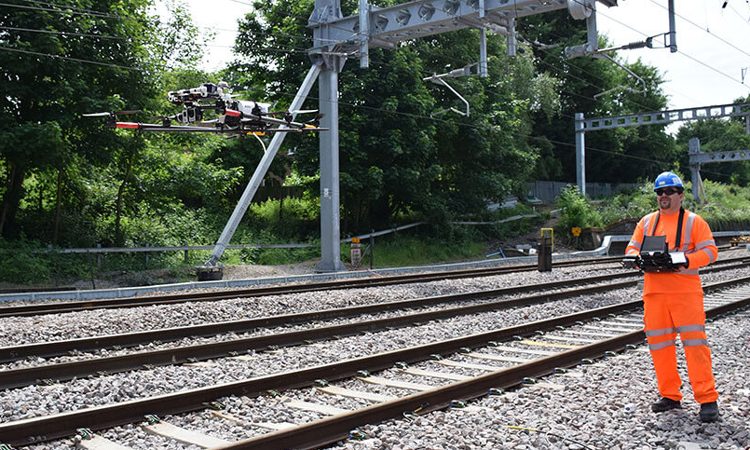 The very first Network Rail survey using drones on the south western rail route is taking place to improve performance and safety across the network.
The drone will make its first flight on 3 August 2018 near Bournemouth, surveying a trespass hotspot to record anyone risking their lives on the train tracks. Any images of illegal trespassing will be passed to the British Transport Police.
Network Rail's Mobile Incident Officer, Peter Atkins, is the first trained railway drone pilot on the route from Waterloo station to the south coast. Peter had to complete extensive training with Essex Police before qualifying to fly.
He said: "I'm delighted to be operating the first-ever railway drone flight in the region. The training was very thorough and often challenging, but completely worth the effort for the benefits this technology will bring. I'm really looking forward to using this drone to improve safety and journeys for passengers across the route.
"The specially designed drone is equipped with a high-tech heat sensitive 4k camera which will spot changes in temperature and identify people and potential damage to our infrastructure. It will also allow inspections to be carried out by air without closing the railway and improve performance and reliability. Using a drone also means we can reduce the number of times we send engineers onto the tracks."
The drone will fly up to 120m high at speeds of up to 50mph. The images captured are displayed on the operator's screen and recorded directly to a USB drive so they can then be immediately transferred to British Transport Police and any other necessary authorities.
South Western Railway Managing Director, Andy Mellors, said: 'We welcome any initiative that can improve safety and performance. Trespassing on the railway network can have tragic consequences and cause unnecessary delays. I hope that the deployment of this new technology will discourage trespassing and reduce delays for passengers."