Bombardier's new corporate identity to take centre stage at InnoTrans
At InnoTrans 2018, Bombardier Transportation will launch its new corporate identity and product design backed up by a state-of-the-art stand concept.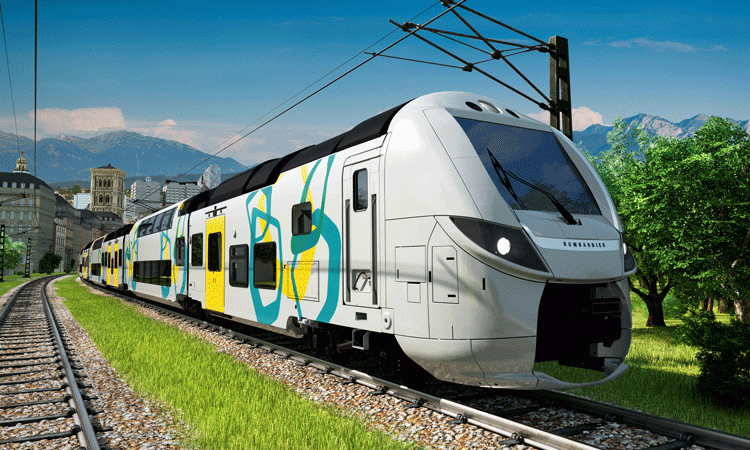 BOMBARDIER OMNEO double-deck train. Credit: Bombardier Transportation
At InnoTrans 2018 in Berlin from 18-21 September, the company's stand will leverage the latest digital technologies to illustrate how Bombardier's high-performance mobility solutions have helped cites across the globe develop. A virtual reality exhibit will take visitors on an immersive 360° journey in cities across the world, be it on the BOMBARDIER INNOVIA monorail in Bangkok, a BOMBARDIER FLEXITY tram in Zurich or a MOVIA C30 metro in Stockholm. An interactive tool features Bombardier's full value chain and helps customers consider the advantages of a complete mobility solution including options for signalling, components, services, as well as operations and maintenance.
Laurent Troger, President of Bombardier Transportation, said: "We are proud to present our new brand identity and product design under our slogan, 'Together we move'. Half-way through our five-year turnaround plan, this is a strategic next step in positioning our company for the future. As a trusted long-term partner to over 200 cities worldwide, our performance makes a difference every day. Our complete value chain of high-performing mobility solutions are catalysts for helping cities across the world grow and their economies develop."
From Berlin to Wuhu, Bombardier's solutions are accompanying cities over the next decades while they develop. A recent contract in Singapore for BOMBARDIER MOVIA metros will support the increase in daily ridership to more than 1.8 million passengers. Using the latest predictive and condition-based maintenance technologies will ensure the highest reliability rates for the new fleet.
Pierre-Yves Cohen, Bombardier Transportation's President, Product Engine Rolling Stock, Product Management & Engineering, commented on the company's new product design: "We want passengers to recognise that they are travelling on a Bombardier train and feel good about it. That's why we undertook a strategic initiative to reposition Bombardier Transportation with a strong and unique product branding, which embodies what our company is about: Quality, performance and style."
Bombardier worked on this project in close collaboration with Peugeot Design Lab, leveraging their design expertise from the automotive industry to create a recognisable and clean concept that is applied consistently across all of Bombardier's vehicle platforms.
Furthermore, Bombardier Transportation has also launched its new website: www.rail.bombardier.com.
Bombardier, MOVIA, INNOVIA and FLEXITY are trademarks of Bombardier Inc. or its subsidiaries.
Related topics
Related organisations
Related people