Hong Kong high-speed line begins operations
The Guangzhou-Shenzhen-Hong Kong High Speed Rail (HSR) link, which connects Hong Kong with the 25,000km high-speed rail network in the Mainland of China, launched passenger services from the brand-new West Kowloon station on 23 September 2018.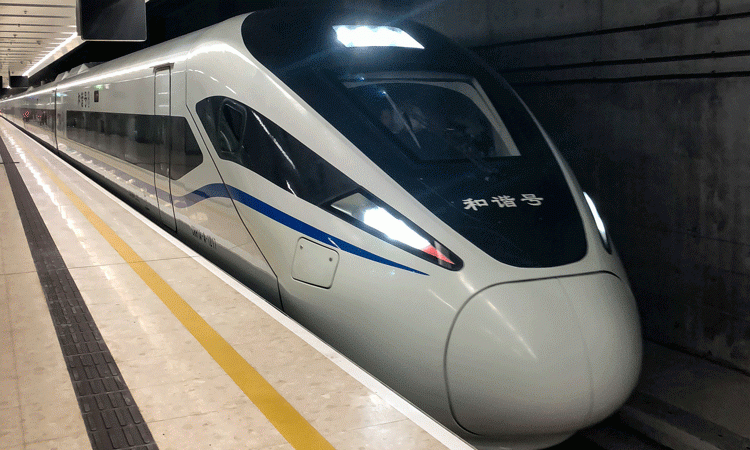 The first train arrived in Hong Kong via the Guangzhou-Shenzhen-Hong Kong HSR at Hong Kong West Kowloon Station.
With trains operating at a maximum speed of 200km/h in the tightly curving, tunnelled Hong Kong Section and 300km/h in the Mainland Section, the high-speed line significantly reduces journey times, helping to cement Hong Kong's position as a transport hub in the region.
MTR Corporation will operate the high-speed services on the HSR for the next 10 years, with direct services to 44 destinations at the time of launch. One-hundred-and-fourteen daily pairs of high-speed short-haul services will operate during peak times.
MTR led on the design, construction, project management and operational set-up of the £8 billion HSR, including the building of the brand new 11-hectare West Kowloon Station and the integration of purpose-built tunnels into an existing rail network.
Mr Lincoln Leong, Chief Executive Officer of MTR Corporation, arrived at Hong Kong West Kowloon Station early in the morning to show his support for HSR's operations staff and other MTR colleagues, and personally opened the station for happy passengers who were waiting to experience the long-anticipated high-speed train service.
Commenting on the successful launch of the service, Jeremy Long, CEO, European Business, MTR Corporation, said: "The integration of the new high-speed line into Mainland China's extensive high-speed rail network marks a significant step in the transport infrastructure of Hong Kong and for its passengers. HSR was a complex infrastructure project and MTR looks forward to using that valuable experience of project management, systems integration, and operational start-up in European markets."
Related organisations
Related regions