CCTT and FERRMED sign a Memorandum of Cooperation
The two international associations will work together to improve the efficiency and effectiveness of international rail freight transport.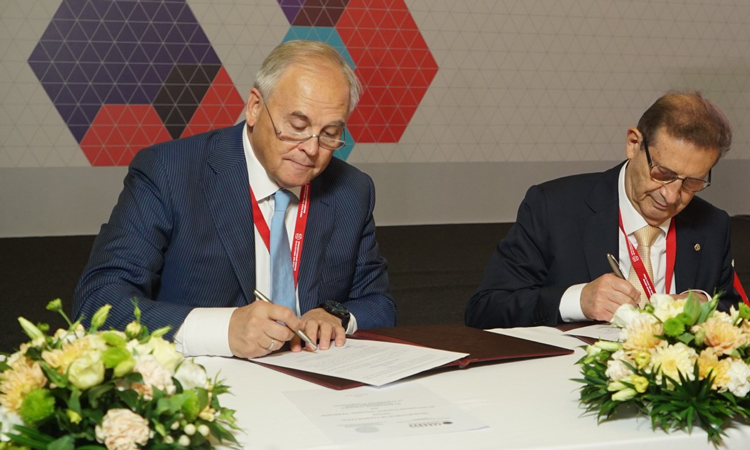 Signing the Memorandum
The President of the International Multisectoral Association FERRMED, Joan Amorós, and the Secretary General of the Coordinating Council on Trans-Siberian Transportation (CCTT), Gennady Bessonov, have signed a Memorandum of Cooperation with the purpose of developing transport connections, increasing the effectiveness of international rail freight transport and attracting foreign trade cargo to the railways.
The two organisations have agreed to cooperate on the performance of common analysis and the elaboration of proposals and recommendations that could improve cargo transportation via the International transport corridors, including the Trans-Siberian route.
Together they hope to increase the competitiveness of international railway transportation of cargo through longer and compact trains, efficient multimodal terminals, broader loading gauge, rolling stock enhancements and improved quality of transport services, simplifying border crossing procedures, implementing modern technological processes related to international cargo transportation and establishing a common information space.
They will look to implement new freight train routes interconnecting key Trans-Eurasian logistics hubs with corresponding pilot projects.
CCTT and FERRMED plan to cooperate through joint meetings, seminars and conferences; the preparation of common measures, recommendations, decisions and control of their implementations; and participation in the special groups of experts created for the purpose of developing international multimodal transport links.
CCTT is an association of more than 100 railway transport and maritime companies and its work is aimed at coordinating the activities of international multimodal transport participants with the purpose of facilitating the attraction of cargo to the West-East International transport corridor using the Trans-Siberian mainline and use of innovative technologies.
FERRMED is an international multisectoral association of more than 140 members and its activity is aimed at the improvement of the business competitiveness in Europe, neighbouring countries and other Eurasian territories, through the optimisation of the full logistic chain, looking for the implementation of an efficient international rail transport system.
Related topics
Related people