Northern leaders back plans to revolutionise the UK's railway in the north
Political and business leaders from across the North of England come together to support plans for Northern Powerhouse Rail – the region's biggest transport intervention since the Industrial Revolution.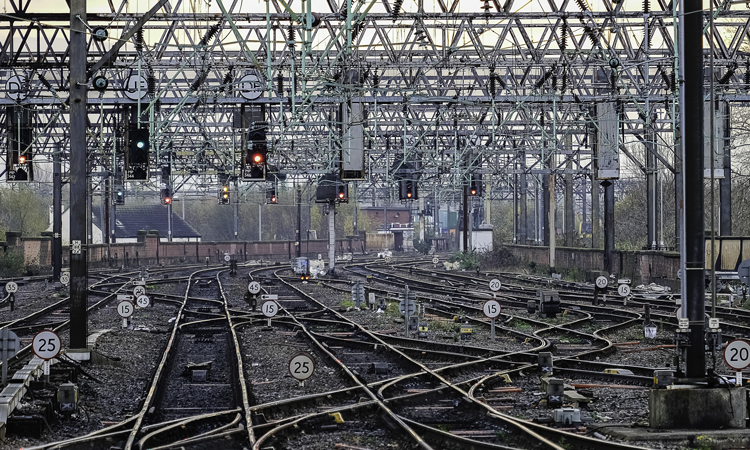 Complex railway lines on the approach to Manchester Piccadilly station
The board of leaders have agreed to move forward and submit proposals to invest up to £39 billion in a modern rail network for the North of England, and will call on the government to fully commit to the project.
This will lead to a Strategic Outline Business Case (SOBC) being submitted to the government, outlining how the investment could increase the capacity, speed and resilience of the North's rail network.
In doing so, passengers will experience faster and far more reliable journeys between the North's economies, as well as its largest international airport.
With options including significant upgrades and new railway lines, work on the transformational network could start as early as 2024.
In approving the case, the North's leaders issued clear, statutory advice to the government. This included the suggestions to signal full commitment to Northern Powerhouse Rail, ensuring long-term capital investment is assigned in the next Spending Review; commit long-term development funding to ensure Northern Powerhouse Rail develops toward detailed consent stage by the early 2020s, enabling first phase construction from 2024; consider a strengthened role for Transport for the North in design and implementation of HS2 Phase 2b, TransPennine Route Upgrade and the Network Rail renewals programme in the North, ensuring all rail investment can be designed and delivered cohesively; and recognise the critical role of Northern Powerhouse Rail in regeneration and growth, working with the North's 11 Local Enterprise Partnerships (NP11) to refresh the Northern Powerhouse Strategy and provide funding to develop Northern Powerhouse Rail Growth Strategies.
The document itself will remain confidential whilst considered. It outlines several concepts that will form the basis of further detailed development over the next 18 months, funded by an additional £37 million allocated in last Autumn's Budget.
It features high-level concepts aimed at fully integrating with HS2 including:
A new line linking Leeds and Manchester via Bradford, including the option for a Bradford city centre station
A new twin-track line linking Liverpool to HS2 and onwards to Manchester and other Northern cities, via Warrington and Manchester Airport
Significant upgrades and integration with HS2 linking Leeds and Sheffield
Significant upgrades between Sheffield, Leeds and Hull
Significant upgrades of the Hope Valley corridor between Manchester and Sheffield
Significant upgrades between Newcastle and Leeds
Hub concepts for Northern Powerhouse Rail stations.
Tim Wood, Transport for the North's Northern Powerhouse Rail Director, said: "Our leaders had a vision to connect the North by rail like never before. Now, we are a step closer to making that a reality. In Northern Powerhouse Rail, we have turned ambition and passion into a robust evidence base for investment of up to £39 billion.
"It provides viable options and solutions to the North's rail challenges. For too long, passengers and businesses have been held back by slower-than-average train speeds and poor connectivity between city regions. If we're going to re-balance the UK's economy, this needs to be tackled head on.
"There's no let up. While the government considers this case, we will begin the more in-depth design and feasibility work that will take us closer to a final preferred network.
"With this first, high-level business case, we put investment in the North's rail network firmly on the agenda. It lays bare our ambition. From the North, for the North."