Network Rail refurbishes snow ploughs to help improve winter operations
To help keep Britain's railway infrastructure running in winter weather, Network Rail will be refurbishing its snow ploughs for the first time in 20 years.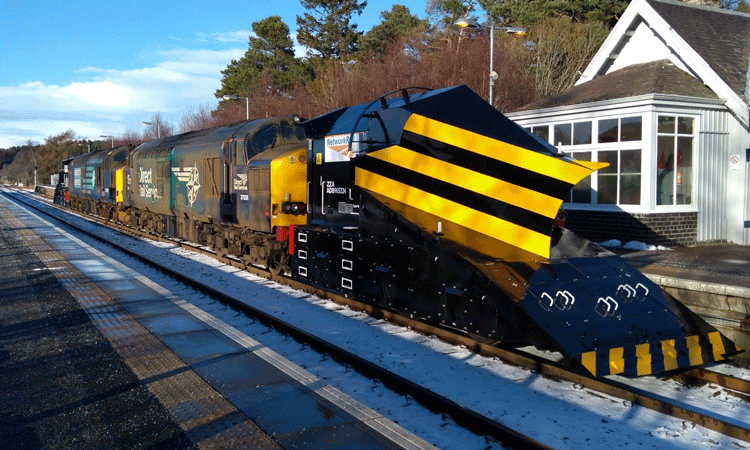 As part of a wider programme of investment in operational fleet by Network Rail's Route Services directorate, the full service refurbishment programme goes beyond business-as-usual maintenance, overhauling and modernising the ploughs to the highest specifications. The work will ensure the ploughs maintain and improve their effectiveness for the next 15 to 20 years.
This announcement comes after a competitive tender in which Loram UK was selected as Network Rail's delivery partner to carry out the overhauls and reengineering at the rail fleet specialist's Derby facility.
Twelve pairs of Independent Snow Ploughs, which can plough snow up to a depth of eight feet (2.4m), are being refurbished one pair at a time, with four pairs completed so far. Overhauls of the Independent Snow Ploughs started in January 2018 and are expected to last for at least a further 12 months.
Propelled by locomotives owned by freight operating companies, the snow ploughs can remove heavy snow from the railway tracks safely and efficiently and are part of the Network Rail's wider fleet designed to help keep the railway running in winter weather and improve overall performance and reliability.
Mike Black, Supply Chain Services Director for Route Services, Network Rail, said: "We are investing £600 million in our fleet and depots from 2019 to 2024 so that we can effectively support our customers in the routes. Overhauling our snow ploughs is one of many ways we will be improving our fleet and its maintenance over the coming years for greater reliability."
A programme to overhaul Network Rail's Bielhack ploughs will begin later this year.
Network Rail operates a range of seasonal treatment machines to help keep the railway running in all weathers. This includes snow and ice treatment trains, the winter development train and trains that jet-blast leaves off railway tracks in the autumn.