Siemens' New Bogie Service Centre completes its 100th bogie
Siemens' New £8 million Bogie Service Centre completes servicing of its 100th bogie, four months after opening.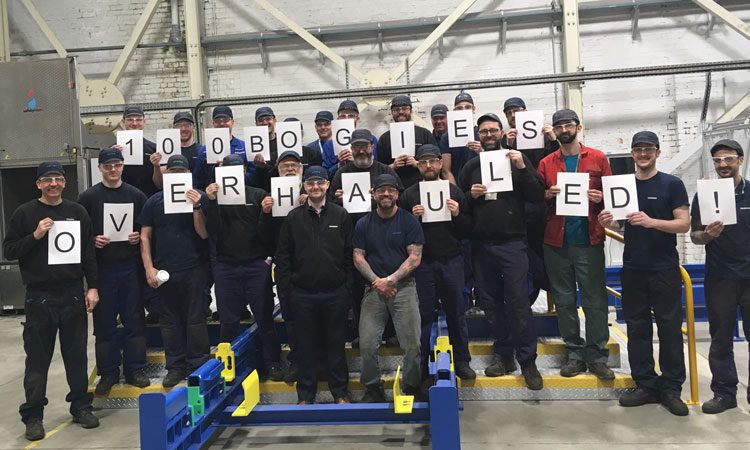 Siemens' new UK Bogie Service Centre in Lincoln has marked a significant milestone with the completion of its 100th bogie for the Velaro Eurostar e320 – just four months after its official opening.
The £8 million centre, which opened in November 2018, enables Siemens to deliver high quality and predictable train maintenance to customers, ultimately enhancing the experience for rail passengers UK-wide by reducing the time trains are out of service for overhauls.
The facility focuses on servicing bogies and wheelsets for the latest Siemens trains operating in the UK, including the Velaro Eurostar e320 high-speed trains and Desiro City trains.
It was built in 2018 and employs around 35 people in skilled rail technician roles, with employee numbers set to increase to around 40 by the end of 2019.
Siemens' investment in the Centre last year marked a key milestone in the company's growing UK rail footprint and followed plans announced in early 2018 to build a new train factory in Goole, East Yorkshire.
Will Wilson, UK Managing Director for Rolling Stock at Siemens Mobility, said: "The completion of the 100th bogie overhaul in Lincoln is a great achievement for our new Bogie Service Centre. To have reached such a significant milestone in only a few months is testament to the fantastic work by our team of highly-skilled rail technicians. The maintenance work at the facility is crucial to enabling our customers to increase the value of the e320 Eurostar and Desiro City trains sustainably over their entire lifecycles, thereby reducing costs."
The Bogie Service Centre complements Siemens' well-established installed base of over 450 trains and eight purpose-built maintenance facilities, plus wider activities in electrification, signalling and train control technologies.