Deutsche Bahn sets out 'strong rail' strategy to meet growth targets
Deutsche Bahn has presented a new 10-point strategy which aims to double patronage and make a major contribution to meeting climate protection targets in Germany.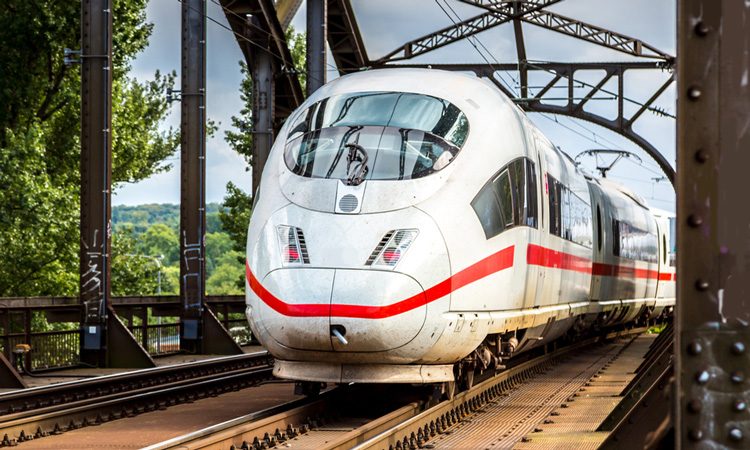 The Management Board of Deutsche Bahn AG has presented its new "Strong Rail" strategy to the Supervisory Board. In the future, the company will focus on consistently upgrading its core business.
Deutsche Bahn CEO, Dr. Richard Lutz, said: "Germany will only meet its climate targets if we succeed in shifting traffic to rail on a massive scale over the next decade. Germany needs Strong Rail: For the climate, for people, for the economy and not least for Europe. DB acknowledges the responsibility we bear in society and we are focusing all of our efforts on building a strong rail system." 
Supported by digital technology, the Group will consistently aim for growth in both passenger and freight transport in the coming years. DB will invest tens of billions of euros in new trains and increase operating performance on the network by 30 per cent. In addition, more than 100,000 new employees will be hired in the next few years alone. Deutsche Bahn has also advanced toward its goal of using 100 per cent renewable energy and will reach it already in 2038, far ahead of its original goal of 2050.
Lutz continued: "Our Strong Rail strategy will provide direction for our actions. But of course it is clear that a strong rail network has to be linked with other modes of transport and has to take an international perspective, since our passenger and freight customers' expectations don't stop at our own borders and can't be fulfilled with rail services alone.
"We will assess our major shareholdings based on how they can contribute to building a strong rail system. DB Schenker strengthens our European rail freight transport business and is thus an integral part of our Group portfolio."
The 10-point strategy plan:
1. Germany's climate targets can only be met with Strong Rail
No other mode of transport is as eco-friendly or as strong in electric mobility. If we want to meet Germany's climate targets, traffic needs to be shifted to rail on a massive scale. That's why Deutsche Bahn is making an additional significant contribution to reducing CO2: Although DB had originally planned to achieve 100 per cent of traction power from green sources by 2050, it will reach this goal already in 2038.
2. Strong Rail focuses on DB's core business
The Strong Rail strategy and its implementation serve to guide DB into the future. DB will consistently assess its shareholdings based on their contribution to Strong Rail. As such, DB Schenker is viewed as providing key support to DB Cargo on its path to profitable growth. DB Arriva has little strategic relevance to building a strong rail network and should thus be sold.
3. Long distance transport will double its patronage
DB's long distance transport will double its number of passengers to over 260 million per year. When it is implemented, over 30 major cities will enjoy twice-hourly connections between cities in Germany.
4. DB will add one billion new regional and local passengers
DB plans to add over one billion regional and local rail passengers by strengthening its local rail services and integrating new forms of mobility. To reach this goal, it will also be introducing smart services for transport in cities and particularly in rural regions.
5. DB Cargo will raise its rail traffic volumes in Germany by 70 per cent
The goal for DB Cargo is clear: To increase traffic volumes in German rail freight transport by 70 per cent. DB Cargo still has a long and arduous period ahead to achieve this turnaround. However, DB is determined that Cargo will make a contribution to climate protection, specifically by increasing its market share in rail freight transport from the current 18 per cent to 25 per cent in a growing market.
6. DB will work with the German government to expand rail network capacity by 30 per cent
To be able to handle the growth in passenger and freight transport, DB will add 350 million train-path kilometres (t-p km), a 30 per cent increase in capacity, to the German rail network. This will be achieved by upgrading the system, utilising technological innovation and digitalisation, and through more efficient use of existing capacity.
7. DB will enter a new era with Digital Rail for Germany
The kick-off packet of DB's Digital Rail for Germany Group programme will help the company enter the digital era in rail operations. This represents a technological quantum leap and will improve capacity, quality, reliability and efficiency.
8. DB's stations will become hubs for state-of-the-art mobility
Stations will be hubs of multimodal mobility and the centre of life in the city. The goal is to double station capacity to host up to 40 million guests a day and to create seamless transitions between rail travel and travel by bike or bus or using new mobility services (carsharing, e-scooters, etc.).
9. DB will hire 100,000 new employees in the coming years
DB is hiring at a time when most major companies are reducing their headcounts, and doing so on a massive scale. Over the next few years, some 100,000 employees will need to be recruited, trained and integrated for DB to reach its ambitious goals.
10. DB will have more trains and offer more connections than ever before
DB is aiming to raise seating capacity in passenger transport by up to 100 per cent by bringing the total number of trains in its long distance fleet up to 600, with a focus on investing in new high-speed trains.
Related organisations
Related regions