Mumbai Naval Dockyard receives Pandrol rail fastening system
Pandrol has secured a major project to design, manufacture and supply a bespoke rail fastening system for the Mumbai Naval Dockyard.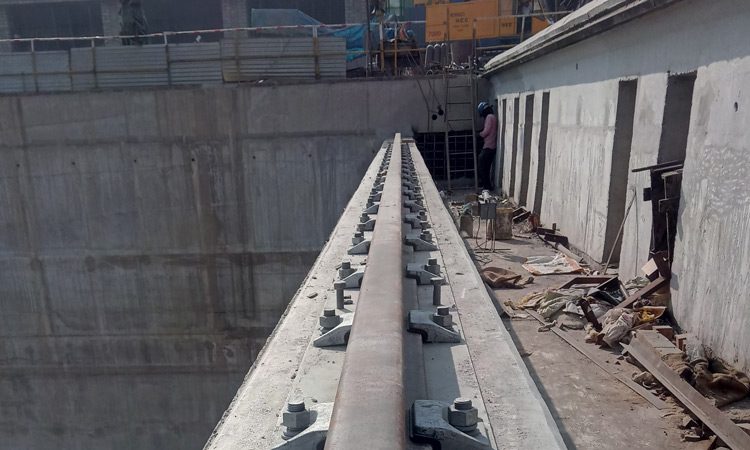 Joint venture
Hindustan Construction Company (HCC) –  India's leading infrastructure construction company – has been appointed for the construction of a new dry dock and adjacent north and south wharves, including crane rails, at the Naval Dockyard to allow large ships to dock for repair and maintenance. Through its joint venture company Pandrol Rahee Technologies, Pandrol was successfully selected to provide a fastening system solution due to advanced technical capabilities in design and manufacture of fastening systems suitable for complex applications.
Pandrol's technical teams in India and Spain collaborated closely to develop a bespoke version of Pandrol's Porttech fastening system for use on the project. The system is designed to support large loads, making it ideal for use in crane rail applications. The fastening system will be installed on 516 metres of track at the Mumbai Naval Dockyard.
On-site training
Furthermore, Pandrol's application engineers are also providing continuous monitoring and supervision throughout the construction process, giving full on-site training to HCC's engineers, supervisors and contractors.
One of the main benefits of the Porttech fastening system is that it eliminates the risk associated with the loss of tension, which can happen if the bolts loosen due to vibrations. It also contains less components than other comparable solutions, and hence offers lower maintenance and quicker and simpler installation.
Quick and simple
The Porttech system has been used globally and delivers high levels of lateral and vertical adjustment. The lightweight system is supplied to site pre-assembled making the installation process quick and simple. It is widely specified as it has the capability to meet the tight tolerances of automated crane systems and allows for lateral adjustment of +15/-45mm and vertical adjustment of 80mm. 
"This was quite a complex project that is testament to our growing business relationships in India and the close collaboration of our technical teams in India and Spain, where the product was designed," said Pradeep Khaitan from Pandrol Rahee Technologies. 
He continued: "Pandrol Rahee Technologies was established in 2005 and its success in India started with metro projects, supplying the resilient fastening system for ballastless track. The move into the Ports and Industrial sector reflects our ability to deliver a range of solutions across metro, light-rail, high-speed and heavy-haul markets."
Pandrol's solutions are developed within an ISO 9001 certified quality management system and the company is committed to sustainable operations that benefit customers, communities and the environment.