Increased metal theft in England and Wales continues to cause rail delays
Continued metal theft has had a severe impact on the delivery of rail services, with Network Rail reporting an 85 per cent increase in live railway cable theft, resulting in more than 950 hours of delays in England, Wales and Scotland, affecting more than 7,000 journeys.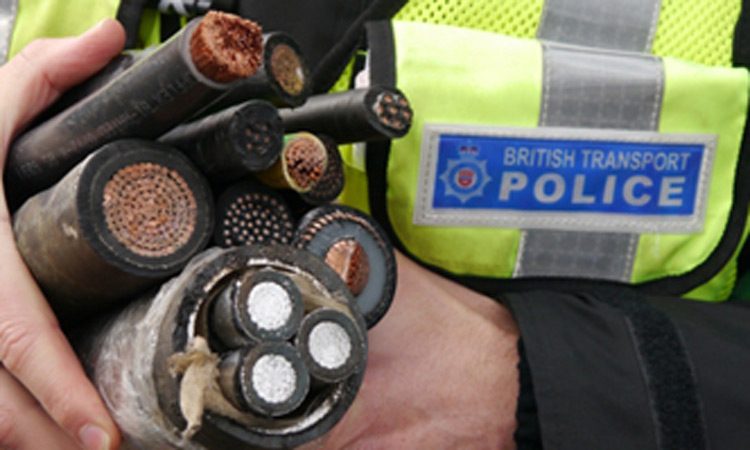 Figures from the Office for National Statistics (ONS) have revealed that 16,552 incidents of general metal theft were recorded across England and Wales between 2017-2018, up 25 per cent on the previous year's figure.
While overall metal theft is up by a quarter, figures also reveal that live railway cable theft is up 85 per cent, costing taxpayers millions every year.
Furthermore, the latest British Transport Police (BTP) statistical bulletin reports that trespass and theft now account for 43 per cent of all disruption to rail services.
BTP's national lead for metal crime, Superintendent Mark Cleland, said: "We work with police forces nationally to root out metal crime and ensure that thieves are identified and brought before the courts. Of course, a big part of tackling this issue is identifying thieves and the scrap metal dealers who continue to trade in stolen property. We have a number of active investigations up and down the nation investigating dealers such as these."
Network Rail, who successfully lobbied the government to introduce the Scrap Metal Dealers Act in 2013, said they are also supporting efforts to prevent illegal and unlicensed trading of metal. A spokesperson from the rail infrastructure manager, said: "We are using forensic marking agents, introducing cables which are harder to steal and easier to identify and setting up a dedicated security team."
Commenting on the statistics and following its own research into metal theft across England and Wales, metals4U Founder and CEO Paul McFadyen, said: "It is encouraging to note the initiatives and action being taken by organisations like Network Rail and the British Transport Police towards tackling the issue, but an overall increase of 25 per cent from 2017 to 2018 shows there's plenty more work to be done."
Paul continued: "Every year, metal theft causes misery to thousands of individuals, who see vital train services cancelled, and to business owners, whose livelihoods are being threatened by forced closures or expensive repair-work. So, we're calling on the government to allocate more resources to tackling the issue on a regional level, and we're encouraging members of the public to do their bit by following Network Rail's advice and reporting all suspicious behaviour."
Related topics
Related organisations
Related regions