Transport for Wales prepares the railway for the challenging autumn period
Preemptively, Transport for Wales has been preparing for autumn in a bid to reduce the impact the change in weather has upon services across the nation.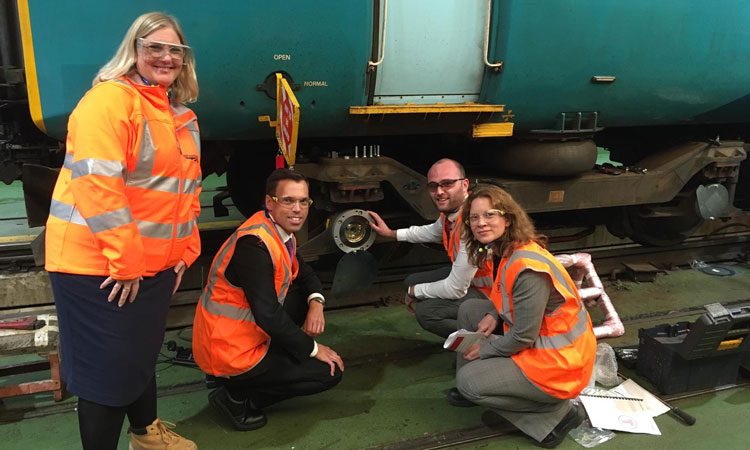 Ken Skates and the TfW team at Canton depot
Transport for Wales (TfW) and Network Rail have been working hard to ensure the rail industry in Wales is prepared for the autumn period. The season is a challenging time for the rail industry throughout the UK as it can often bring poor weather conditions which can damage trains, reducing the number available for service. 
However, based on two independent reports, industry partners have been focusing on the necessary steps needed to be taken to deliver the best possible service for customers. 
TfW have brought forward the fitment of Wheel Slide Protection to many of their trains, as well as 'automatic sander' technology to provide improved resilience for their fleet. Network Rail have been pro-actively managing vegetation and will be delivering more rail head treatment than ever before and have also put in place frontline response teams.
Alexia Course, TfW's Rail Operations Director, said: "The customer experience is at the heart of our decision making and we recognise how autumn conditions have the potential to affect our services.
"Many months have been spent preparing for Autumn including a full review of last year, with a focus on how we can improve, based on the recommendations of two independent reports. As a result, we have fitted many of our trains with Wheel Slide Protection, we've invested in additional spare wheels and upgraded our wheel repair facilities at our Canton train maintenance depot.
"As an industry, we understand the challenge we face but we want to reassure our customers that we have carried out preparation and we are ready to work hard to provide the best services we can throughout the period."
Bill Kelly, Route Director Wales and Borders, Network Rail, said: "Lessons are constantly being learned within the rail industry and none so much more than the lessons learned from last autumn on the Wales and Borders route. We have invested record resources into this Autumn's preparation work, across a number of areas, and we will prepare to work around the clock if needed to keep the network on the move and to enable customers to reach their final destinations as smoothly and as efficiently as possible."
As part of the preparation work, Ken Skates, Minister for Economy and Transport visited Canton depot to meet with industry workers, he said: "It has been great to visit the Canton depot to meet with the engineering team at Transport for Wales and see the work being carried out as the industry prepares for the autumn period. I'm very encouraged to see the collaborative work going on between Transport for Wales and Network Rail and would also like to take this opportunity to thank all the staff for their commitment."