The Polish railway awards large order to Kapsch CarrierCom: start of the third largest GSM-R implementation in Europe
The Polish railway PKP/PLK has signed a major contract with Kapsch CarrierCom…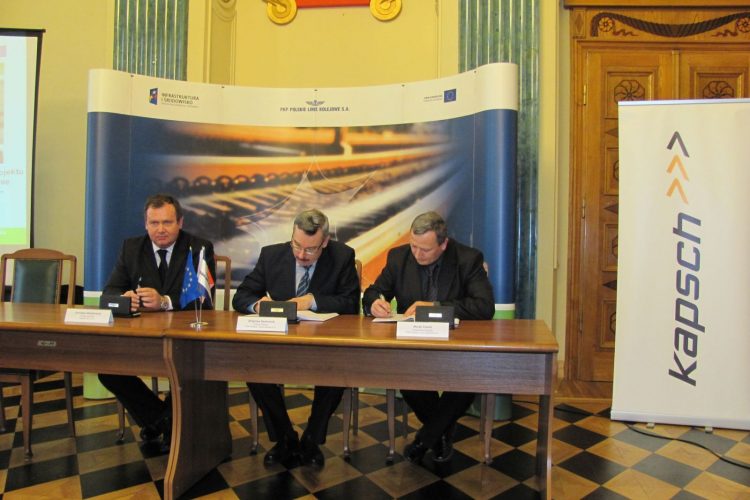 From left to right: Jaroslaw Wijatkowski, chairman of the board Kapsch Sp.z.o.o. Zbigniew Szafranski, chairman of the board PKP PLK S.A. Marek Pawlik, deputy chairman of the board PKP PLK S.A.
Recently, the Polish railway PKP/PLK signed a major contract with Kapsch CarrierCom. The company will immediately begin with the deployment of the digital train radio system for the third largest rail network in Europe. Kapsch was recently declared to be the winner of the Polish tender and the order value is approximately Euro 11 million (44.2 million Polish zlotys).
"After a three year preparation and tendering phase, we look forward to the implementation of this major project in Poland. We are clearly the right partner and fully prepared for this project based on our extensive expertise and high level of innovation," explains Horst Kaufmann, Kapsch CarrierCom's Vice President for GSM-R Sales in CEE. "This order is particularly important to us because Poland, measured in total kilometres of railway track, is one of the largest railway countries in Europe. Now that the order is signed, we can immediately begin with the delivery of the national core network and access equipment for a test system."
In addition to the deployment of GSM-R base stations on an 84km railway route in Lower Silesia, the confirmed order includes a redundant core network in Warsaw and Poznan as the basis for the further route expansion. The Polish railway plans to expand this route gradually and introduce GSM-R across the country after the completion of the pilot project.
Related organisations
Related people