Network Rail prepares for autumn leaves on the line
Network Rail and its train operating colleagues will be working flat out to cope with the annual blight of 'leaves on the line'.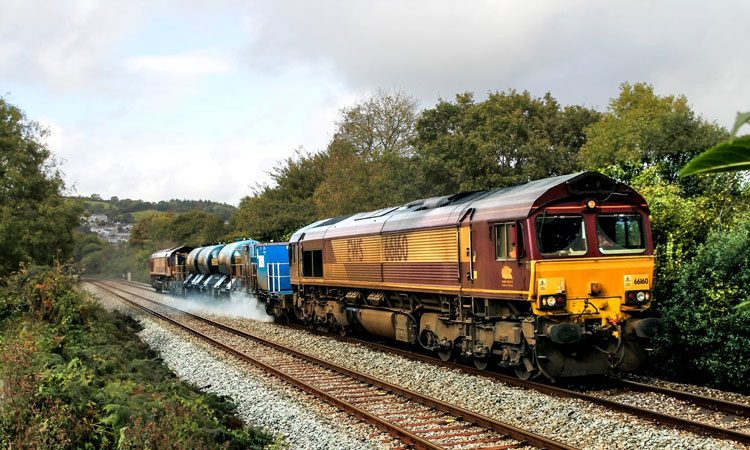 Network Rail is preparing to deal with the autumnal issue of leaves on the line across the UK.
Working with it's train operating colleague, Network Rail is readying its 61 leaf-busting trains, preparing specialist equipment and undertaking specialist driver training in a bid to keep passengers moving safely across its 20,000 miles of track this autumn.
When leaves fall on to the tracks, they stick to damp rails, and passing trains compress them into a thin, black layer which can affect train braking and acceleration. This forces drivers to slow down earlier for stations and signals to avoid overshooting them.
Autumn can also present problems for signallers, as the build-up of leaf mulch makes it harder to detect a train's location, causing delays when subsequent trains are unable to proceed until the train in front is further up the line.
A total of 61 leaf-busting trains – 29 Railhead Treatment Trains (RHTT) and 32 Multi-Purpose Vehicles (MPV) – will move around the network, cleaning the top of the rail by spraying it with a water jet at high pressure (1500 bar) to blast away leaf mulch. These trains will also lay adhesion modifier, a composite material of sand and steel shot suspended in a gel-like substance, which is applied to the rail to clear the tracks and help ensure the signalling system works correctly.
In addition, teams will be available 24/7 at key locations to scrub the top of the rails by hand with a sand-based treatment.
Between 1 October and 13 December, Network Rail receives adhesion forecasts twice a day from a specialist weather forecaster, highlighting locations that require action.
Management and replacement of lineside vegetation with species less likely to shed leaves on to the tracks also forms a part of the organisation's autumn preparation programme.
Network Rail's autumn treatment trains covered 1,418,169 miles in 2018 – the equivalent of travelling to the moon and back three times.
Related organisations
Related regions