Bombardier Transportation signs frame contract with DB Regio AG for 200 TRAXX locomotives
The nine-year frame contract is valued at approximately €600 million ($867 million)…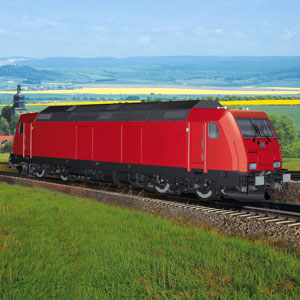 TRAXX Diesel Multi Engine Locomotive
Bombardier Transportation and DB Regio AG have signed a nine-year frame contract – valued at approximately 600 million euro ($867 million US) – for 200 BOMBARDIER TRAXX diesel locomotives with game-changing multi-engine propulsion.
At the same time, DB Regio has placed a formal order for the first 20 locomotives for passenger transportation. First delivery is planned for mid 2013. The order amounts to approximately 62 million euro ($90 million US).
This newest member of the TRAXX locomotive platform, with its highly innovative diesel propulsion is designed for locomotive-hauled passenger and freight transportation throughout Europe. Its use of four rugged, heavy-duty industrial diesel engines in place of a single large diesel motor provides operators with key advantages. The locomotive already fulfills the new stringent EU Stage IIIB emissions standard thanks to proven and highly efficient diesel engines. Compared to single-engine diesel locomotives, it markedly reduces fuel consumption, exhaust emissions and life-cycle costs.
Using standard diesel engines produced in very large series, this new TRAXX DE locomotive builds a bridge to a multitude of other industrial applications with the same engine. This assures spare parts availability and diesel engine support thanks to the large quantity of engines installed and the established service capabilities in the market. The diesel engines are configured in a modular assemblies allowing modification and upgrades over the lifetime of the locomotive. They can be upgraded to meet potential new emission standards and requirements in the future.
The exchangable diesel modules contribute markedly to lower costs for maintenance, future upgrades and overhaul. This is due to smaller and lighter exchangeable components, the easy accessability of spares, the ease of repair and the resulting shorter locomotive downtimes. In addition, mission reliability is substantially increased thanks to the redundant configuration with four diesel engines. With the multi-engine concept the locomotive maintains full tractive effort also if a reduced number of diesel engines are in operation. By shutting down engines during idling and at low power demand, this key feature reduces fuel and lube oil consumption.
"The locomotives can be operated with one to four engines as needed, providing optimum power for each specific situation. The use of these 200 TRAXX multi-engine diesel locomotives will result in a massive reduction of CO2 over their life span," emphasised Åke Wennberg, President of the division Locomotives and Equipment, Bombardier Transportation. "By meeting the demanding Stage IIIB emissions standards, using sustainable fuels and operating fuel-efficiently, the TRAXX DE Multi-Engine is one of the most environmentally friendly locomotives in the marketplace."
Thanks to the TRAXX locomotive platform concept, operators will benefit from synergies to their existing TRAXX locomotive fleet for operation, maintenance, long-term spare parts availability and high residual value over the lifetime of the locomotives. DB AG and its subsidiaries already own and operate a fleet of more than 680 TRAXX locomotives.
"We are very pleased about the signing of the frame agreement with DB Regio AG. These locomotives will make a significant contribution to environmental sustainability for European passenger and freight transportation," said Dr. Klaus Baur, Chairman of the Management Board, Bombardier Transportation in Germany.
Final assembly of the new locomotives will take place in Kassel, Germany. The carbodies will be produced at Bombardier's site in Wroclaw, Poland, and the bogies are to be supplied by Bombardier's site in Siegen, Germany. Bombardier's sites in Mannheim and Kassel, Germany and Zürich, Switzerland are responsible for product development. The propulsion & control equipment will be supplied by Bombardier's sites in Mannheim and Hennigsdorf, Germany.
As a member of the TRAXX locomotive platform, the TRAXX Diesel Multi-Engine locomotive can accomodate the same country packages as the electric TRAXX locomotives, including conventional automatic train protection systems and ETCS. The platform is designed for the transportation of freight and passengers on national and international routes and is suitable for all networks. Since its introduction, more than 1,500 TRAXX locomotives have been sold and TRAXX locomotives are approved in 18 countries in Europe. The platform consists of three electric variants (multi-system, alternating and direct current locomotives) and a new diesel-electric design. All TRAXX locomotives are characterised by their modular design, as well as their innovative BOMBARDIER MITRAC propulsion and controls system, which is already in use in over 3,200 locomotives worldwide. TRAXX locomotives are more than 90 % recyclable and bear the EMAS environmental seal, guaranteeing environmental friendliness and energy efficiency.
Related topics
Related organisations