Network Rail sentenced and fined for Potters Bar derailment
Network Rail has been fined £3m for safety failings over the Potters Bar train crash, which killed seven people…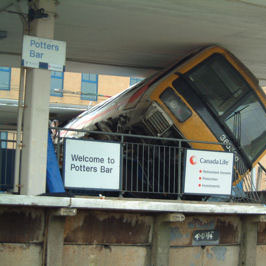 Network Rail has been fined £3m for safety failings over the Potters Bar train crash, which killed seven people.
The rail infrastructure company had admitted breaching safety regulations over the accident in May 2002.
Faulty points were to blame for the crash, in which a London to King's Lynn service operated by WAGN derailed near Potters Bar station in Hertfordshire.
A Network Rail spokesman said: "This week marks the ninth anniversary of the terrible, tragic event at Potters Bar. We recognise for many that the sorrow remains and we should all pause and reflect as we remember those who lost their lives.
"Network Rail has today been sentenced for failings that contributed to this accident and we accept the fine as we accept the liabilities inherited from Railtrack. We say again today that we are truly sorry.
"Private contractors are no longer in control of the day-to-day maintenance of the nation's rail infrastructure since Network Rail took this entire operation in-house in 2004. Today the railways are safer than they have ever been, yet our task remains to build on that record and always to learn any lessons we can to make it ever safer for passengers and those who work on the railway."
Related topics
Related organisations