Keep your railroad freeze protection up to date with the GURU® Rebuild Program
GURU® Rebuild Program: Cost-effectively keep your GURU PC® freeze protection drain valves for passenger trains functioning at peak performance.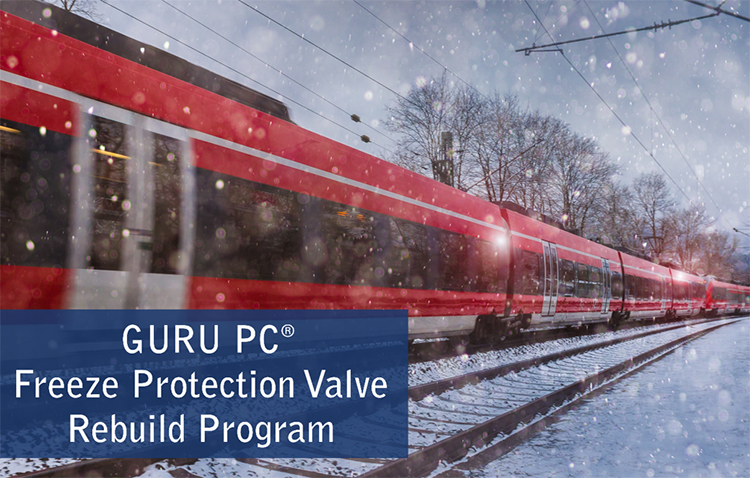 Passenger train potable water-bearing systems, typically supplying on-board bathrooms or kitchens, are susceptible to freezing during the cold winter months. During normal operation, the passenger train's heating keeps the water in the system warm, but when the heat is turned off during a layover or when the train is put in storage, the temperature inside of the cabin can quickly fall towards freezing.
ThermOmegaTech®'s GURU PC® Valve utilises self-actuating, thermostatic technology to monitor the ambient temperature inside of the passenger train's cabin. When the valve's internal actuator senses that the air temperature has fallen to its set-point, the valve modulates open and drains the passenger train's potable water-bearing system before freeze damage can occur.
Once power has been restored to the train and the valve warms up it will modulate closed, allowing for the tank to be refilled before returning to service.
Over time, the GURU PC® Valve will lose a small amount of stroke, which can lead to nuisance draining above the valve's set-point. While this would never compromise freeze protection, ThermOmegaTech® recommends replacing the GURU PC® every 18-24 months and has developed the GURU® Rebuild Program to provide their customers with an economical and green way to do so.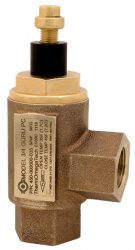 The GURU® Rebuild Program is designed to return used GURUs® to full functionality. Each valve is disassembled, cleaned, checked, and its interior components are replaced. The refurbished valve then goes through our standard testing procedure to confirm correct operation before being returned to the customer.
Undeniably the most beneficial part of the program, valves are processed and returned from the rebuild program in a like-new condition for about half the cost of a new valve. This has proven to be a significant cost-savings option for passenger train operators who may have dozens of GURU PCs® installed.
For further convenience, ThermOmegaTech® offers a UTEX program. "When a rebuild order with 50 pieces or less is received, the order is immediately processed," commented Dana Logue, Railroad Product Manager. "With the UTEX program, we don't wait for the used valves to arrive at our warehouse. For customers with strict deadlines, the faster turnaround time can make a big difference."
An additional program benefit is what it generates less of – waste. Instead of simply trashing a used GURU PC® that's experiencing an upward creep of nuisance draining and purchasing a new one, the rebuild program recycles the majority of the valve's components. This reduces overall environmental impact, so you can feel good knowing that we at ThermOmegaTech® are protecting both your investments and the planet.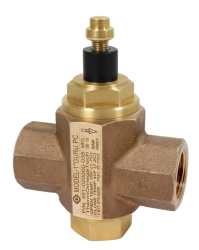 GURU PC® operates 100 per cent mechanically and does not require a source of electricity to drain the system. The GURU PC® is offered in ¾" and 1" NPT sizes, both of which have a high flow design for rapid draining. We recommend purchasing our electric heater assembly, which is offered as 120VAC/74VDC or 230 VAC, with to valve to shorten refill and startup times after a valve activation.
NSF 61 Certified and shock and vibration tested, the GURU PC® is compact, reliable, and in-line serviceable for ease of maintenance. This winter and every other, trust the thermostatic GURU PC® freeze valve to protect your investments from freezing temperatures.
The GURU PC® Valve is available for purchase worldwide directly from ThermOmegaTech®, and the GURU® Rebuild Program is operated at the company headquarters in Warminster, Pennsylvania.
Related organisations
Related people