PKP PLK launches feasibility study tender for Katowice
The polish infrastructure manager is looking at expansion of lines in the Katowice agglomeration in response to the increase in passenger and freight traffic.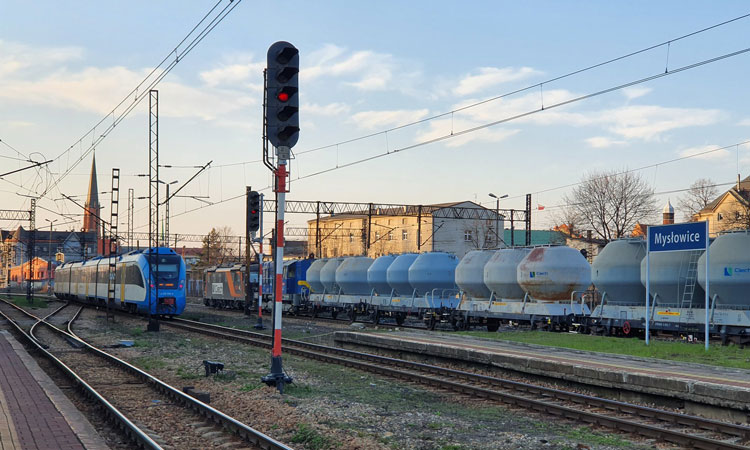 PKP Polskie Linie Kolejowe SA has announced a tender for a feasibility study looking at expansion of railway lines in the Silesia Province.
The Polish infrastructure manager is looking at future of rail transport development in the province, particularly focusing on new railway opportunities to make more passenger connections and transport more freight in the Katowice agglomeration.
The tender reflects the growing interest in passenger and freight traffic on the railway network. In particular, the study will assess the possibilities of building additional tracks on the Katowice – Mysłowice route, in a bid to increase capacity.
The planned investment assumes the separation of passenger and freight traffic, particularly long-distance traffic, allowing capacity to be increased on both traffic lines, including routes between Katowice and Krakow. The analysis also extends to assessing building new stops, including Mysłowice Mine, in a bid to make rail transport even more accessible to the province's citizens.
The study will also include analyses covering five railway lines, namely: Oświęcim – Katowice (No. 138), Jaworzno Szczakowa – Mysłowice (No. 134), Katowice Szopienice Północne – Chorzów Stary (No. 161), Dąbrowa Górnicza Towarowa – Panewnik (No. 171), Chorzów Stary – Radzionków (No. 145). Analysis will be carried out to determine the scope of work to improve travel and freight conditions.
The contractors of the study will also deal with the topic of improving rail freight in Silesia. Adaptation options for Siemianowice Śląskie, Katowice Szopienice North, Katowice Muchowiec, Mysłowice, Brzeziny Śląskie, and Piekary Śląskie will be explored. Notably, Szarlej will be assessed for potentially servicing longer freight trains, up to 750m long.
Preliminary proposals developed as part of the study will be consulted with carriers who are implementing, or intending to, implement railway connections in the Katowice agglomeration. This will allow passenger and freight traffic forecasts to be taken into account when determining the possible options for investment.
PKP PLP envisages the study being completed between 2020 and 2023.
Related organisations
Related regions