Could PPPs unlock the potential in Indian Railways' Passenger Business?
Dr. Amit Kumar Jain from Indian Railways and the Centre for Railway Information System (CRIS), Government of India, tells Global Railway Review how the 'New India New Railway' initiative is looking to the private sector for a US$ 4 billion investment opportunity in the operation of passenger trains, in order to meet the ever growing demand for passenger travel in India.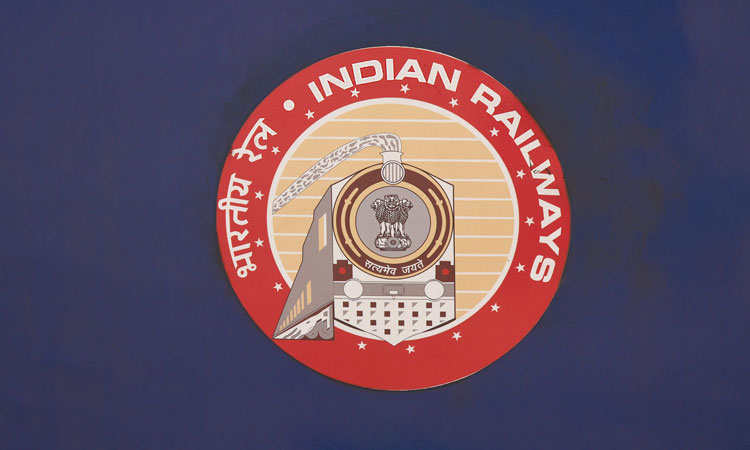 The rail network in India – the fourth largest in the world – is owned and operated by state-owned Indian Railways. With a network of 67,000km, Indian Railways operates 13,000 passenger trains, carrying 23 million passengers, and 9,000 freight trains, transporting 3.05 million tonnes of freight, daily. With its wide network touching almost every nook and corner of the country, Indian Railways plays a crucial role in facilitating the balanced and inclusive socio‑economic development of the country.
Meeting the demand for passenger and freight traffic
Over time, there has been a manifold increase in passenger and freight traffic – without commensurate improvement in the capacity of the system. With this in mind, Indian Railways is working to overcome the challenges of saturated infrastructural capacity, the need for enhancing the modal share in the freight sector and towards realising the huge potential in passenger business. In recent years, the Indian government has invested in capacity enhancement works to alleviate congestion over the Indian Railway network. Over the last six years, more than US$ 100 billion has been infused to generate additional capacity with a focus on multi tracking, new lines, traffic facility works, yard remodelling, electrification and easing out bottlenecks.
Indian Railways has also embarked on an ambitious plan to build two dedicated freight corridors (Eastern and Western) of around 2,850km at an estimated cost of US$ 11.38 billion. These two corridors will be used solely by freight trains and thus decongest the two busiest routes of Indian Railways. These two corridors are planned to be commissioned by 2021.
The additional capacity generated will lay the the path for modern rolling stock to meet the ever-growing demand of passenger movement. The travel needs of approximately 88.5 million passengers were not met by Indian Railways in 2018-2019. A significant improvement in the quality of train services in India also needs to be realised, to meet the rising expectations of its passengers.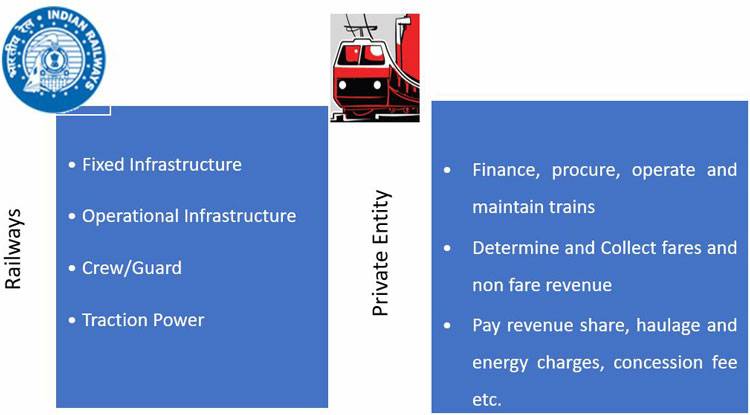 Seeking investment through Public Private Partnerships (PPPs)
To address the present imbalance of quality and quantity, Indian Railways, in a 'first-of-its-kind' initiative, is inviting private entities to invest in the operation of passenger trains through Public Private Partnerships (PPPs). The 'New India New Railway' initiative is expected to garner private sector investment of around US$ 4 billion, introducing modern rolling stock with less maintenance, reduced transit times, enhanced safety features, and a world class travel experience for passengers.
The private entity shall be responsible for financing, procuring, operation and maintenance of the trains, with the option of procuring trains through an ownership or leasing model. Indian Railways will provide the fixed infrastructure – access to tracks, stations, overhead catenary for traction, train control system, watering and cleaning lines. The private entity will be required to pay Indian Railways fixed haulage charges, energy charges and a share in gross revenue.
The trains shall be designed for a maximum speed of 160km/h. Each train shall be of minimum length of 384 metres (equal to 16 cars of Indian Railways' trains) and a maximum length up to the longest passenger train operating on the respective route. The concession period for the project shall be 35 years in line with the lifespan of modern rolling stock.
Bidding process
The private entities will be selected through a two-stage competitive bidding process comprising of Request for Qualification (RFQ) and Request for Proposal (RFP). The RFQ process will be for pre-qualification and shortlisting of bidders based on their financial capacity to offer share in gross revenue at the RFP stage (bid parameter) for undertaking the project. The project has been structured as per standard guidelines on the Public Private Partnership (PPP) model, which ensures balanced allocation of risks and protects the interest of investors as well as the authority.
Indian Railways invited the RFQ on 1 July 2020 for private participation for operation of 224 passenger train services over 109 Origin Destination (OD) pairs of routes through the introduction of 151 modern trains (Rakes). The 224 train services have been formed into 12 clusters across the Indian Railway network. Each cluster is a separate project and a separate application has to be made for each cluster.
The project has been designed as a partnership model with adequate safeguards to protect the interests of both parties. Full freedom is proposed to be granted to the private entity in deciding the fares to be collected from passengers and exploring innovative ways to generate non-fare revenue. Generally, these private trains are scheduled to be comparable or faster than the fastest train of Indian Railways running between the same origin and destination station via an identical route. The configuration of each train, as well as its coaches, will also be determined by the private entity.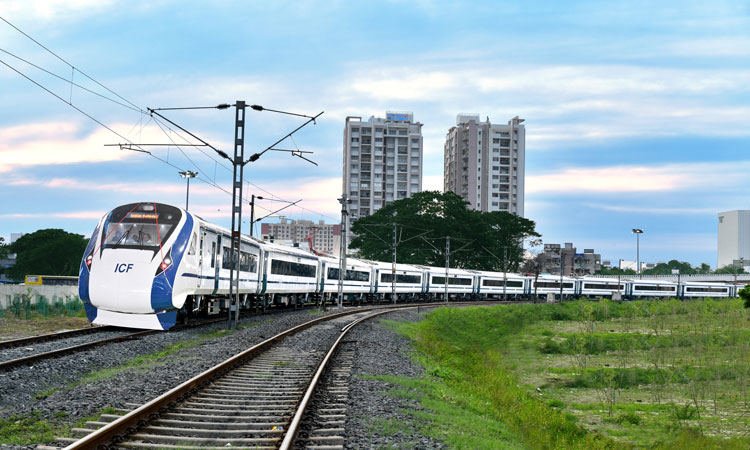 Private investors will be supported
Recognising how challenging it would be for a private entity to arrange an experienced, capable crew to operated private trains, Indian Railways will offer its experienced pool of crews to operate the trains. To instill investor confidence, for the first time in its history, Indian Railways has included an exclusivity condition in the project. This states that no new, similar scheduled train will depart from the originating station on the same destination route within 60 minutes of the scheduled departure of the private train, until quarterly capacity utilisation of the private train exceeds 80 per cent.
Furthermore, in view of the difficulties faced by private entities in acquiring land in India, Indian Railways has decided to provide land to the private entity to build a maintenance depot. The private trains are planned to be treated at par with other premium trains of Indian Railways such as Rajdhani, Shatabdi, Duronto etc. Indian Railways will also provide its own Passenger Reservation System (PRS) to make these private trains available for ticket booking to its large pool of customers. To encourage efficiency in energy consumption, the charges for traction energy will be collected based on actual consumption as assessed from the energy meter of the train. The project has been structured to motivate the private sector to bring efficiency and innovation in passenger train operations.
Engaging with the project's growing interest
In spite of the prevailing uncertainty in the market due to COVID-19, the project has received overwhelming interest from prospective bidders. Indian Railways has received queries from around 23 private entities from across the globe for first and second pre-bid conferences held on 21 July 2020 and 12 August 2020 respectively. Acting promptly on suggestions received from the prospective bidders, Indian Railways has made several investor friendly modifications to the project such as reducing application fees to one tenth for more than one application, removing the cap on the number of projects that can be awarded to one bidder, sharing complete passenger data for the project routes, sharing feasibility reports, draft concession agreements, draft specifications for trains, allowing procurement of rakes through leasing, and allowing members of the consortium to hold equity share for one year instead of two. These investor friendly responses are testimony to the commitment of Indian Railways to make this project workable and financially attractive to investors. 
The application deadline is 07 October 2020. The bidding documents are available at https://eprocure.gov.in/eprocure/app . This project may prove to be the forerunner of increased public-private partnerships within rail, fostering growth for the sector and, in turn, for the economy as a whole. The project presents an unprecedented opportunity for investors to seize the advantages of entering into Indian Railways Passenger Business and reap the fruits of ever increasing demand for travel in India.

Dr. Amit Kumar Jain is currently working as Officer on Special Duty (OSD)/Private Train Project Cell, Indian Railways and General Manager (Operations) in Centre for Railway Information System (CRIS), Government of India. He has around 20 years of experience of railway and metro operations. Prior to this, he worked as lead operations, Delhi Division, Northern Railways, Joint General Manager (Operations) and Principal Training Institute, Delhi Metro Rail Corporation. He has a PhD in Urban Transportation, M.Tech and B.Tech in Civil Engineering. He has authored books titled 'Exploring [email protected]' and 'Intelligent Transportation Systems'. Views expressed in this article are personal.