Tailoring Wi-Fi connectivity to improve the passenger experience
Laurent Bellan, Chief Information Officer at Eurostar, details the work being done to improve Wi-Fi connectivity for on-board passengers across its fleet, and the challenge of ensuring a stable and consistent connection for the entire journey for all Eurostar travellers, irrespective of their differing internet needs.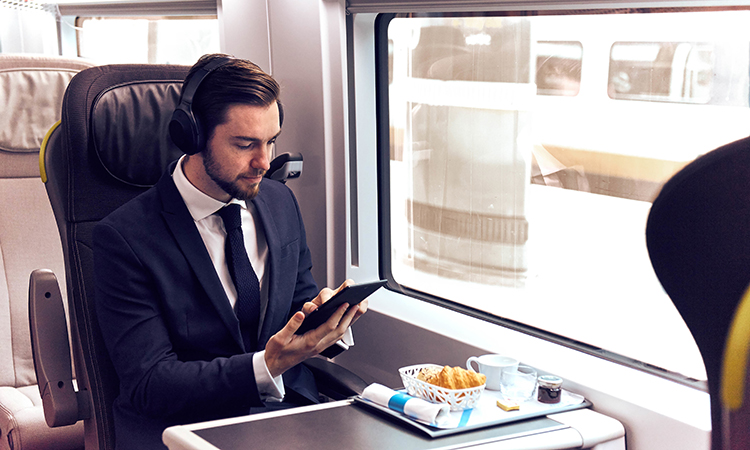 At the end of 2015, we transformed our fleet with the introduction of new, state-of-the‑art e320 trains, and the complete refurbishment of some of our original fleet. Not only did this provide a more spacious and comfortable experience for travellers, it gave us the opportunity to provide our passengers with Wi-Fi connectivity for the first time. Being connected throughout a journey was something that our original trains couldn't deliver, but was something that travellers had come to expect, and so the chance to provide Wi-Fi was a great opportunity for us to improve both customer experience and customer satisfaction.  
Catering to a variety of customers
Eurostar caters for a wide variety of customers, whether it is holidaymakers taking their first trip under the Channel, families taking their summer break, expats making regular trips to visit family and friends, or business travellers moving frequently between cities, offices and meetings. When we started to look at the Wi-Fi needs of these different customer segments, it was clear that they all had very different requirements, expectations and needs. The challenge for us was coming up with a solution which could improve the Eurostar experience for each audience and offer reliability throughout the journey.  
We divided these groups into those who work, those who want to be entertained and curious travellers who want to discover more about their journey, and then set about ensuring that the content and service we provided delivered across these groups. 
Leisure travellers
Leisure travellers are used to viewing on-board entertainment when they fly and are looking for enjoyable content to make the journey pass by quickly. We created a unique platform which houses over 300 hours of popular TV shows, films, news and games. To access the system, customers simply connect their own device to the Wi-Fi, removing the need to offer screens on-board, which can very quickly become dated in terms of their technical capability. All of the content for this platform is housed in servers on-board the train, which means that it can be accessed consistently throughout the journey without relying on an external internet connection. It also meant that, by keeping leisure customers entertained with this content, more bandwidth would be available for those needing to connect to the internet for other purposes, such as email. 
First-time travellers
For those customers who may not have travelled with Eurostar before and are interested in their journey, the on-board entertainment portal features a live journey map, showing the train as it travels at high-speed, and features local points of interest, as well as facts and figures about the journey (such as the speeds travelled or depth of the Channel Tunnel). Another feature which was created for this audience was 'Odyssey', our virtual reality experience, which provides an immersive on-board adventure through the use of specially designed headsets. These moments can be exciting for some customers, but we have to balance this with our frequent travellers who don't want to be interrupted with intrusive announcements about their journey, so the on-board entertainment provided a great solution to offer more information and entertainment about the journey to those who want it. 
Business travellers
Finally, to meet the demands of business travellers who are focused on productivity, and are more often travelling in our premium classes of Business Premier or Standard Premier, we upweighted the internet connection provided in those carriages. This ensured that these customers, who are more likely to be using their own devices to connect and email as opposed to accessing the on-board entertainment, had a more reliable connection throughout their journey. Across all classes, we also restricted access to sites which use a high bandwidth, such as video streaming services. This was to avoid a situation where a small number of users take up the available connection, so that the largest possible number of people could connect and be able to chat or email using the Wi-Fi. 
Improving on-board connectivity
Of course, providing Wi-Fi on-board trains which travel at up to 300km/h comes with its challenges, and the Eurostar route goes not only under the Channel, but through a significant number of tunnels just outside of London, as well as through remote countryside across the UK, France, Belgium and the Netherlands. This made creating a sustained, reliable connection particularly difficult. 
As technology has evolved since we first introduced Wi-Fi, we were able to take advantage of new solutions to improve the on-board connection. We trialled a variety of options, monitoring customer feedback before putting in place some new technology across the fleet. This included replacing the hardware and software on board, as well as a new 4G connectivity solution, combining access to multiple operators to increase the bandwidth provided on-board. Since putting these measures in place, across both our new fleet of e320 trains and our refurbished original trains, customer satisfaction increased as travellers could find a connection that they could rely on. 
These upgrades improved the experience across our routes, but not in the tunnels. The Channel Tunnel has long had a connection, which has been 4G, since 2014, and which customers have found to be very consistent, but a remaining point of frustration was just outside London St Pancras International, as the high-speed line makes its way under large parts of London. The first of these has now been equipped with EE 4G, meaning that access to the internet is available for their customers just as trains depart or arrive at the station. The infrastructure provider, HS1, is currently progressing work on the other tunnels, which should be completed in early 2021. 

Laurent Bellan joined Eurostar as Head of Customer Systems in 2012, becoming Chief Information Officer (CIO) three years later. Before Eurostar, Laurent spent 10 years at the global pharmaceutical company, Bristol Myers Squibb, where he was IT Director for the French business and then Director for Enterprise Web in the U.S.