Keeping Scotland moving, whatever the weather
When winter weather threatens disruption to rail services, networks need to pull together to keep everyone moving safely. For Global Railway Review, David Simpson, ScotRail's Operations Director, shares some of the planning, preparation and response work by the dedicated partnership, Scotland's Railway, to achieve just that.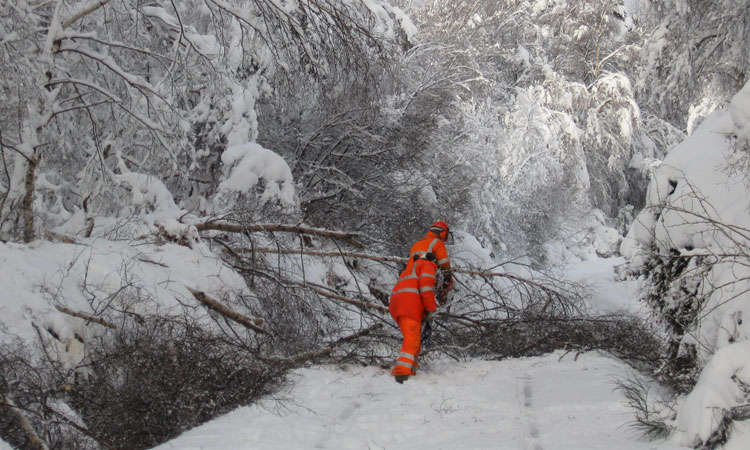 We're lucky that, in Scotland, we don't suffer from the same regularly brutal winters that occur in many other countries, like Canada, the Russian Federation or the U.S. However, that doesn't mean that we get off lightly when it comes to snow and freezing temperatures. When we do experience what (for us) is a severe winter, it has the potential to seriously disrupt our public transport systems, including the railways.
Over recent years, Scotland's Railway has done its best to become more resilient and keep as many services running as possible during bad weather.
Adapting services
When winds are forecast to hit 70mph and above, we put speed restrictions in place. It's just not safe to run trains at their usual speed if wind speeds reach 90mph. High winds can blow objects on to the line, meaning that trains have to travel slower to ensure that they can safely stop short of any obstructions. Teams will work to identify and remove any potentially dead and dangerous trees, which could be blown over the tracks, before high winds arrive.
If there's a risk of waves crashing over sea walls, we can't run trains in the area. Sea water can damage electrical systems and wash debris onto the line.
Then, when conditions settle, we have to check rail lines to make sure that there's no debris on the tracks – such as tree branches, or sometimes trampolines or garden sheds!
But there's no doubt that winter weather gives us our biggest and most complex challenge. That's when Scotland's Railway – a partnership between rail networks including ScotRail, Transport Scotland and Network Rail – leaps into action.
Risks of winter weather
Points can freeze up, preventing services from accessing junctions or platforms. Up to three tonnes of snow can accumulate on the underside of carriages. In the past, trains have been damaged by snow and ice falling from the undercarriage and bouncing back up. They have to be removed from service for safety checks when this happens.
The build-up of snow on hilly lines, or above railway cuttings, can also lead to avalanches, while melting snow can cause landslips. Heavy rain can cause flooding. When these occur, trains have to be stopped until the line has been cleared and a thorough safety inspection of the track carried out.
Being prepared
Scotland's Railway's advance weather warnings trigger response teams across the country. We monitor conditions overnight to make sure that it's safe to run trains the next morning. Meteorologists will map weather events as they approach, allowing us to deploy chainsaw teams and engineers to where they're most likely to be needed. If weather forecasts mean that we need to run fewer trains, we'll do our best to let passengers know by 16:00 the day before, in order to help them plan ahead.
Maintenance activities
We make sure that we're out on the track as the snow falls, clearing lines and maintaining vital infrastructure through the freezing nights. Extremely low temperatures can sometimes prevent train carriages from attaching, leading to fewer carriages on services.
Scotland's Railway's specialist £1 million winter train has been specially designed to melt the snow and ice that can build up on key sections of track during the prolonged cold spells seen during a Scottish winter. The train is fitted with specialist heat-lances and hot air blowers that can be used to quickly defrost points and other vital infrastructure, and it can also be used as a mobile depot, transporting engineers around the rail network when roads are closed.
A fleet of 10 Scottish-based snow ploughs are also in full operation throughout the winter, supported by the railway's helicopter unit, which uses thermal imaging to identify spots where severe weather could take hold.
Teams of engineers will also work around‑the‑clock through any severe weather to maintain key pieces of infrastructure and help to prevent them from freezing up, while additional staff will be available to clear platforms and car parks for customers.
In depots, our engineers use specialist equipment to defrost our trains ready for the services ahead, and in stations, too, we're working hard, gritting platforms and car parks to ensure that passengers can complete their journeys safely. Maintenance depots have been fitted with heated poly-tunnels, high pressure hot water 'jet washes' and space heaters to reduce the time required to defrost trains and get them back into service more quickly.
Keeping customers informed
On our trains, we've improved heating and insulation to keep passengers warmer on chilly winter days. Most ScotRail colleagues have smartphones so that they can pass on travel advice on-the-go.
We also work hard to keep passengers up to date and, if severe weather is expected, contingency timetables will be created and customers informed. ScotRail's website and social media channels will have full details of any changes to the train service.
Our focus is always on our customers. We understand that they have to get to their final destinations and so, when disruption happens, we have agreements with other transport providers to let them use their train ticket (traditional paper version or Smartcard) to travel on certain buses, trams and the Glasgow Subway. We let passengers know which transport is available by making station announcements, posting alerts on social media and live updates on our website and app.
Keeping customers moving
People know from their own lives the impact that winter weather can have, and that applies even more so to the railway. That's why we have invested in specialist equipment, so that when bad weather strikes, we can keep our customers moving. Our staff will be working flat out, night and day, to get customers where they need to be, while ensuring that the safety of our customers and staff remains our number one priority.
Researchers are warning that COVID-19 outbreaks could get worse during the winter, so we also have to keep in mind that many of our staff could be off work with coronavirus. However, that is balanced out by the massive reduction in the number of passengers using the railway. There's been a drop in passengers of almost 80 per cent since March 2020, so fewer customers will be affected and we are confident that ScotRail and the ScotRail Alliance will be able to cope with whatever winter conditions are thrown at us.
We've never been better prepared for winter in terms of weather monitoring, our specialist snow clearing train, snow ploughs, jet washers, space heaters and helicopter unit.
But, you know what? Impressive as all of that is, I would give anything not to have a white Christmas and to get to the end of March 2021 without another 'Beast from the East' or 'Storm Caroline.'

David Simpson has more than 30 years' experience in delivering results across the rail industry, leading and managing change in Network Rail, freight and passenger businesses across the UK. David has a unique blend of experience in Scotland's rail sector, having worked in senior roles at Network Rail Scotland, Caledonian Sleeper and, now, ScotRail. He brings a strong focus to improving performance and customer service, and building trusted relationships between industry partners, stakeholders and government.