The opportunities ahead to grow and develop U.S. rail freight
Ian Jefferies, President and CEO of the Association of American Railroads (AAR), outlines the significant role that rail freight played during the COVID-19 pandemic, and how, in the years to come, this role will only continue to grow and develop in order to support a prosperous future for railroads, their customers and the economy.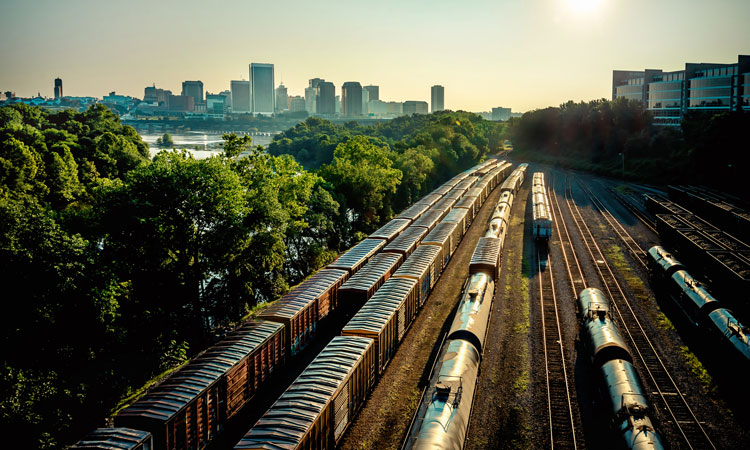 The book is closed on 2020 and, for U.S. rail freight operators represented by the Association of American Railroads (AAR), the takeaway is clear: While unprecedented challenges at times depressed rail traffic and changed the way that railroads and their employees operate, these companies – buoyed by decades of private investment and the world's best infrastructure – adapted to keep employees safe and goods moving for the communities and customers that they serve.
The results were impressive. By midyear, and especially through the fourth quarter, traffic was on the road to recovery, back from the depths of the volume trough experienced earlier in 2020. Several commodities made up ground to return to near-normal levels. Three traffic segments, in particular – intermodal (linked closely to ecommerce and international trade), grain and auto manufacturing – helped to lead an economic recovery not just within rail, but more broadly across the economy.
In sum, railroads' diverse and skilled employees, paired with nimble operating plans, maintained a critical link to American businesses and society in order to do their part to weather the COVID-19 storm.
Looking forward, clear opportunities exist for railroads to grow their business, evolve technologically and achieve meaningful public policy wins.
The growth story
"Although freight rail companies are incredibly successful today, the railroad of tomorrow is going to be vastly different," says Patrick Lortie, Partner and Global Rail Leader at Oliver Wyman. "They're absolutely on the cusp of big transformational change, which is terribly exciting and creates a lot of opportunities for innovation to meet the demand."
Indeed, structural changes in traffic patterns have been long-afoot, and railroads are continuing to make strides to offer truck-like services at more competitive rates. Certainly, improved customer service undergirds this effort – specifically efforts to improve velocity, reliability and visibility.
We saw some positive signs through intermodal shipments in 2020. With retailers continuing to restock their inventory and strong seasonal e-commerce demand, railroads closed 2020 consistently exceeding 2018 levels – which were six to 10 per cent above comparable 2019 volumes.
New research from the Northwestern University Transportation Research Center (NUTC) shows that this is no accident. Railroads directly won business from new retail customers, leveraging available capacity and seizing a clear market opportunity. Preliminary findings show that the market is here to stay.
We are bullish that this can continue in 2021 and beyond – not just in intermodal, but across other traffic segments. Carriers are committed to growth, even as they take slightly different paths to get there.
Evolving for the future
Also key to the industry's ability to safely meet demand in the future is the continued development and deployment of technology. As one Class I CEO put it recently, the industry strives to be a technology leader, not just a transportation provider. Petabytes of data gathered from continuous rail inspection exemplify the future.
Because railroads provide an environmentally efficient way to move goods across the U.S., the industry will advance the fact that it can help mitigate climate change
Before this technology was used across the system, track inspections were time and labour intensive. Continuous rail inspection technology can detect tiny defects invisible to the human eye, while enabling railroads to inspect up to eight times as much track each day. The new approach shows that efficiency does not compromise safety.
Customers win, too, as a safer network is a more reliable one. Previous regulations required test vehicles to frequently stop and perform manual inspections, forcing nearby trains – both freight and passenger – to slow down, leading to delays. Conducting inspections with technology integrated into trains will prevent such interruptions and create a more fluid, consistent system, all the while enabling vastly more track to be inspected more often.
Better overall network operations is the net result. The huge volume of data collected is analysed by computer programmes capable of predictive analytics. Today, freight rail companies are using this data to identify trends and forecast when tracks need maintenance and schedule it for the optimal time, ensuring that the network remains safe while further reducing service disruptions related to maintenance.
Public policy opportunities
With a new administration and Congress in the U.S. capital, railroads will also be looking to help shape public policy for the betterment of the country. This is especially true in two areas: Reducing U.S. greenhouse gas emissions and jumpstarting key parts of the U.S. economy.
Because railroads provide an environmentally efficient way to move goods across the U.S., the industry will advance the fact that it can help mitigate climate change.
The question among policymakers should be: How can we move more goods via rail to reduce carbon emissions? We believe that policies that incentivise freight-by-rail movements can serve as a tool to help the environment.
Separately, more must be done to remedy our uneven economic recovery. Industries such as manufacturing, agriculture and construction deserve particular attention. By maintaining existing policies that ensure continued private rail investment and viability, railroads will continue to offer affordable and reliable services to sectors and support the recovery of the overall industrial economy. But they will also work with customers and lawmakers to advance policies – such as sensible trade measures – that can spur needed growth.
Conclusion
Railroads are eager to help to meet the nation's biggest challenges and remain optimistic, driving towards a future in which freight demand will continue to increase. The lessons learned from 2020 will shape a prosperous future for 2021 – for railroads, their customers and the economy.

As the Association of American Railroads' (AAR) President and CEO, which is a role he took on in 2019, Ian Jefferies advocates for and works with member railroads to ensure the long-term viability of America's railroad industry. Ian has more than a decade of experience working in government. From 2009 to 2013, he served as a Senior Policy Advisor to the Chairman of the U.S. Senate Committee on Commerce, Science and Transportation and, from 2013 to 2019, he was AAR's Senior Vice President of Government Affairs.