Train fires: Understanding the risks and controlling them
The Rail Safety and Standards Board (RSSB) has published revised standards on fire safety and evacuation. Neil Dinmore, Principal Engineer of Structures and Materials at RSSB, considers the history behind the present.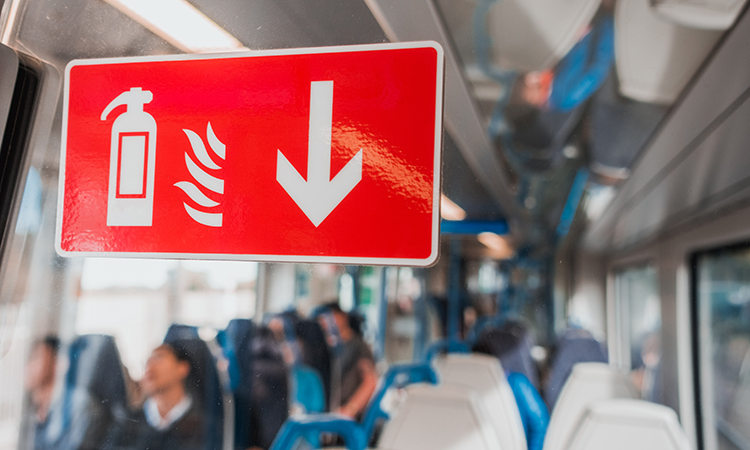 Fire on the railway often comes in the form of a secondary incident; after a collision, for example. Once a fire breaks out, there can be a horrible inevitability about the destruction, death and injury that follows. This has certainly been the case in the past.
Fire on the railway often comes in the form of a secondary incident; after a collision, for example"
The rail industry has long aimed to learn from past incidents. Fire played a major part in Britain's worst-ever train accident. In May 1915, over 200 people – many of them troops bound for the Somme – were killed when three trains collided at the barren outstation of Quintinshill, near the Scottish borders. The vehicle bodies were constructed from wood and equipped with gas lighting; a dangerous combination which contributed to the loss of many, many lives that day. Nowadays, carriages are made from less flammable, sturdier material, while better train control and the reduction of flammable fuels within the passenger compartment has reduced the associated risks considerably.
A fire on a sleeper train approaching Taunton in July 1978 was caused by linen being placed near an electric heater. Carbon monoxide poisoning was the primary cause of the 12 deaths, exacerbated by the exterior doors being locked. Changes to the panelling materials used within vehicles and the facility for emergency exits reduces these risks. This was the first manifest in new 'Mark III' sleeper vehicles (still in use on the Night Riviera between Paddington and Penzance) and, latterly, the 'Mark Vs', which are used on Caledonian Sleeper services.
During the Ladbroke Grove accident of October 1999, the diesel tanks on one of the HST power cars involved were ruptured. Many deaths occurred in the passenger vehicle immediately behind it. Passengers were also hindered from escaping due to the internal sliding doors needing to be opened against gravity as the carriage lay on its side. Standards now require these doors to open in opposite directions at each end, or to be equipped with other means of opening.
From these and other fires, our industry has learnt about the key risks and the means to control them. These are summarised as follows:
The risk of a fire starting
A fire requires oxygen, fuel and heat; therefore, the principal methods of reducing the risks are to:
Reduce the availability of fuel, which includes flammable materials
Reduce or isolate sources of heat and ignition; for example, by using fire barriers and arc shields
Provide other risk controls where circumstances dictate, such as automatic extinguishing systems for internal combustion engines, and manual fire extinguishers in cabs, catering and passenger areas.
If a fire starts, the risk of it spreading
Fire itself generally does not kill people; the main cause of deaths in fire is inhalation of smoke and toxic products. Potential means of limiting or preventing fire spread are to:
Ensure early detection, control and extinguishing of fire if it does break out by using smoke detectors, heat detectors and automatic and manual extinguishing systems
Reduce the quantity of toxic substances released if materials do burn; for example, by restricting the types and/or quantities of materials. Careful selection of materials used on the interior of the vehicle can find a suitable compromise between comfort, aesthetics and fire resistance.

 
The risk of trapping people
There is a great risk of trapping people in a dangerous situation, or of them attempting to leave the vehicle when it is not safe to do so. The aim, therefore, is to facilitate safe evacuation, whether to an adjacent vehicle, the platform or the track. Means of achieving this are to:
Ensure that the train can continue to operate until it reaches a place of safety, by keeping critical systems operational, providing inter-vehicle fire barriers and/or other fire containment measures
Provide suitable means of escape, either with emergency means of releasing bodyside doors or providing train end doors where the trains operate extensively in tunnels with no side access
Keep the passengers informed with appropriate announcements, signage and lighting.
The high-level requirements for rail vehicle fire safety and evacuation, addressing some of the issues listed above, are listed in the Technical Specifications for Interoperability (TSIs) for Safety in Rail Tunnels (SRT TSI) and Locomotives and Passenger Rolling Stock (LOC & PAS TSI), which, in turn, call up more detailed requirements in European Standards. Work on a European Standard for rail vehicle fire safety was started in the late-1990s, leading to the publication of the seven-part EN 45545 in 2013. This represented minimum agreed safety requirements for Europe.
Note that the TSIs will be replaced by National Technical Specification Notices (NTSNs) following the end of the transition period associated with the UK leaving the EU. The NTSNs contain the same requirements and, therefore, call up the same European Standards as the TSIs.
Before this, the requirements in Great Britain (GB) had been set out in BS 6853, first published in 1987 and updated in 1997, 1999 and 2002. This standard (along with other national standards in Europe) could continue to be used for a transition period, which ended in 2018. However, the requirements for testing passenger seats in EN 45545 were considered less safe than those in BS 6853: A seat passing the EN requirements could fail the equivalent BS 6853 test. Further European standardisation work led to the publication of a new test procedure for passenger seats, EN 16989:2018 (considered to give a level of safety equivalent to BS 6853) and for smoke toxicity, EN 17804:2018. The newest version of EN 45545‑2 was published in August 2020 and refers to these two new standards. Work is continuing with updates to the other six parts of EN 45545 over the coming years.
More detail can be found in Research Project T1018 (Assessment of the fire testing regime for rail vehicle seats).
So much for the bureaucracy. It is necessary, of course, but the most important question for passengers is: 'If a train fire happened now, would we be at risk'? Given the technological improvements since Quintinshill, the answer is likely to be 'no'. The improvements to standards mean that – for one thing – the Office of Rail and Road (ORR) wouldn't accept a seat or carriage that didn't conform to the higher standard. All practical steps appear to have been taken, but the industry will continue to be vigilant.
As well as leading research and keeping standards up to date with technology, RSSB has been assisting its members with defining and meeting the requirements for fire safety as applicable to modifications associated with COVID-19 safety measures.
RSSB has published revised standards (GMRT2130 issue 5 and RIS-2730-RST issue 1) on fire safety and evacuation reflecting the latest status of the British and European Standards, as well as documenting other GB practices learnt from past tragedies. We also contributed significantly to the British Standard Code of Practice BS 9992 'Fire safety in the design, management and use of rail infrastructure'. 

Neil Dinmore has over 25 years' experience of rail vehicle mechanical engineering. He joined British Rail as a graduate, working subsequently for Atkins and Interfleet (SNC-Lavalin) before joining RSSB in 2018. He represents GB on European Standards Committees (vehicle structures and fire), develops GB railway standards and provides technical support to innovation projects.