Access For All: Interview with VIA Rail's Catherine Langlois
Taking part in Global Railway Review's first 'Access For All' interview series is Catherine Langlois, Senior Advisor – Universal Accessibility at VIA Rail, who highlights some of the accessibility features on board the operator's new fleet, and how they strive to be Canada's most accessible national and intercity mode of transportation.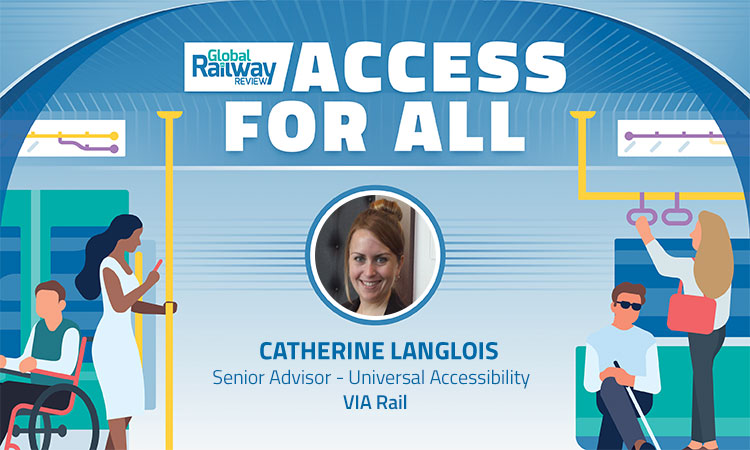 What is VIA Rail's mission statement when it comes to accessibility?
We strive to be Canada's most accessible national and intercity mode of transportation. Our vision is to be a smarter way to move people by ensuring access to a sustainable, affordable and accessible means of transportation. By promoting better accessibility, we are improving the customer experience for all our passengers as part of a barrier-free Canada.
What on-board amenities/facilities do VIA Rail's trains offer to ensure people with disabilities have a comfortable journey?
In our new Corridor Fleet, we will have six wheelchair lifts and five mobility-aid spaces per trainset. Our accessible washrooms have push-button, sliding powered doors, wider door openings, more grab bars and much more floor space for passengers to easily manoeuvre in their wheelchairs. These new trains also have Braille and/or embossing throughout the train for features like signage and buttons. There are attendant call buttons at all mobility-aid spaces and in all accessible washrooms as well. Our much-improved public announcement system delivers automated messages in both audio and visual formats. It includes several screens in each car and washroom showing the train's current location along its route. Our mobility-aid spaces have dedicated luggage racks and more space for service dogs then in our existing fleet. We also provide menus in Braille and large print upon request.
Is website accessibility important?
Our website's accessibility is really important as it is the customer's entrance to VIA Rail's world. For most passengers, our website is where they start their journey. That said, it is crucial that our customers have access to as much information about their trip as possible. To facilitate the first leg of the customer's journey, we've centralised accessibility-related information for our passengers on our Accessibility page. To increase the accessibility of our website, in 2022we expanded the reach of our communication with the addition of American and Quebec Sign Language Videos to our website. We also do a yearly audit of our website's accessibility to make sure that it is compliant with accessibility standards and regulation for websites.­­
How does VIA Rail ensure its staff are trained to provide assistance to people with disabilities?
As part of their mandatory on-boarding training programme, our frontline employees – the employees working on our trains and in our stations and taking customer calls – are required to attend and participate in courses that teach them to how to assist and interact with customers with disabilities. We have asked disability advocacy groups to review these courses to make sure they meet the needs of people with disabilities, and all adhere to applicable regulations. Also, all our offices employees, including upper management, are required to take a mandatory accessibility awareness training.
How can people with disabilities provide feedback to VIA Rail and how is this information taken forward to improve accessibility?
VIA Rail's Accessibility webpage was created to centralise accessibility-related information for our passengers. The website provides information on the various means of communication customers can use to share their feedback on our services. Our customers can communicate with us by email, phone, traditional mail, and even social media.
As you can imagine, we get all sorts of feedback from our passengers. The accessibility-related feedback is sorted, reviewed and assessed by our Accessibility Team. They determine the best way to proceed. However, we prioritise feedback to make sure the most urgent items are handled first.
How does VIA Rail collaborate with disability advocacy groups to improve accessibility for people with disabilities?
VIA Rail has a universal accessibility advisory committee, and all the members of this committee are from advocacy groups representing different types of disabilities to ensure good representativeness. In addition to the advisory committee, we consult with advocacy groups and people with disabilities for workshops and consultations on projects, such as the work we've done for new Corridor Fleet and the service animal relief areas.
Other exclusive interviews from Global Railway Review with rail accessibility experts will be published over the coming weeks; participants will include TransPennine Express, DSB, ProRail, Avanti West Coast, Hull Trains, and many more!

If you would like to take part in the Access For All series, or would like to nominate a colleague, please email: Craig Waters, Editor, Global Railway Review.
Related organisations
Related people