Access For All: Interview with ÖBB-Personenverkehr's Franz Andel
For Global Railway Review's 'Access For All' interview series, Franz Andel, Accessibility Manager at ÖBB-Personenverkehr, explains the importance of accessibility for the company and highlights some of the passenger friendly features of the their trains.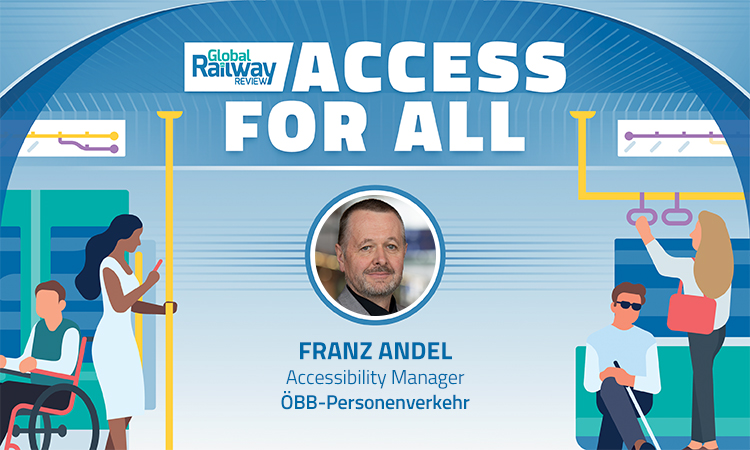 What is ÖBB-Personenverkehr's mission statement when it comes to accessibility?
As Austria's biggest mobility provider, it is our goal that all people can travel by train comfortably without issue. We are not just talking about people with permanent disabilities, but also about people with a stroller, frail elderly people or people with a cast. Accessibility means all people can use services, facilities and objects in their daily lives without restrictions, problems or help from others. This applies to people with disabilities as well as people without disabilities.
ÖBB has created the ÖBB Masterplan 2025+ with experts from organisations for people with disabilities, so we can continuously better ourselves. This knowledge and close exchange with experts has an impact on our work and helps us to further improve accessibility in the future.
Do you think the rail industry as a whole is doing enough to ensure rail travel is accessible for all?
In the past few years change has already been on its way – thanks to legal regulations and norms on accessibility. However, we see a lot of room for improvement in the industry. Many rolling stock manufacturers have prefabricated production platforms and components adapted to them which makes simple changes/adaptations to new developments very difficult or even impossible. Therefore, even testing small series or prototypes of innovative solutions for accessibility are not feasible for many manufacturers. This adaption process in the industry will still need some time in my opinion.
What on-board amenities/facilities do ÖBB-Personenverkehr's trains offer to ensure people with disabilities have a comfortable journey?
Through the close involvement of interested representatives in procurement projects of new rolling stock, the accessibility of our trains is tailored to our customers' needs and positively acknowledged. The legal requirements are always met, and, in some areas, even better solutions are found. Apart from accessibility, travel and service, the comfort of our customers on-board is also important. We try to design our trains as comfortable as possible – the experiences and wishes of our target groups that we receive are very helpful.
With the new procurements of our fleets, older wagons are constantly being replaced by newer, more accessible wagons with modern interior equipment and technology. Our newly procured trains are accessible for everyone and equipped with visual and acoustic passenger information. We generally provide passenger information following the multi-sense principle. This means the information is available for at least two of the three senses – sight, hearing and touch. This is extremely important for the mobility and orientation of disabled people, as well as others such as the elderly. For the entire barrier-free travel chain, many things play a part together – of course, that was only a small part of it. The rest would go beyond the scope here.
What is ÖBB-Personenverkehr currently working on?
We're working on our Masterplan 2025+ and on continuously improving accessibility for our customers. It's both small and big steps that we achieve. For example, in 2024 our new generation of ticket machines will be released, which will be 100% accessible.
I also want to mention ÖBB's Nightjet fleet, because there's a lot happening with our rolling stock. We're expanding our Nightjet network every year with new connections and it's very important to make travelling on this fleet as comfortable as possible – of course that applies to people with disabilities as well. We've modernised our fleets' regular seating coaches to multifunctional couchettes with a completely new PRM compartment and PRM bathroom for Nightjet traffic. These upgraded comfort couchette cars enjoy great popularity with our customers. We're currently still waiting on the completion of the last wagons, so they can be added to our Nightjets.
Parallel to this, we've ordered a total of 33 new generation Nightjets that offer an accessible couchette car and bathroom and are comfortably accessible by low-floor entry. With our comfort couchette cars and the new generation Nightjets, we believe we've entered a new era of comfort and equipment.
Is website accessibility important?
Yes, of course. However, I wouldn't just limit this to the website, but generally speaking the provision and preparation of information is essential for accessible travel. Well available information before travelling is very important for our customers and adds to the success and comfort during their journeys. Therefore, accessibility and proper data provision are to be respected. ÖBB implements the guidelines on accessible web content of the WCAG. The ÖBB travel portal, our online ticket shop, the ÖBB app and the timetable information service SCOTTY are designed accessibly, so they can easily be used by all customers.
How does ÖBB-Personenverkehr ensure its staff are trained to provide assistance to people with disabilities?
Educating our current and future employees is of high importance at ÖBB, especially for employees frequently in contact with customers, the topic of accessibility is in focus. All our new sales employees obtain theoretical training on travellers with disabilities as part of their basic education, where they are made aware of how to treat our customers. All our train attendants participate in a training day on this topic too as part of their basic education, where they are theoretically and practically educated and sensitised by a big Austrian organisation for disabled people. This is how we ensure that they're perfectly prepared for the various assistance services the people with disabilities require.
How can people with disabilities provide feedback to ÖBB-Personenverkehr and how is this information taken forward to improve accessibility?
We receive feedback through various communication channels – be it via telephone with our customer service team, via diverse social media platforms or via our website. There is an accessible contact form on our website where all customers can submit feedback.
We derive measures from all feedback – positive and negative – to continuously adapt and improve our services. Not everything can be implemented due to technical, operational or financial reasons, but we do our best to make travelling even more comfortable for disabled people.
How does ÖBB-Personenverkehr collaborate with disability advocacy groups to improve accessibility for people with disabilities?
We have maintained a good and constructive cooperation with the Austrian Disability Council (ÖBR) for many years, which is the top organisation for representation of interests for disabled people in Austria. The experts at ÖBR are consulted on all important decisions concerning accessibility; for example, votes on current or new rolling stock, and digital services for our customers.
Franz Andel works at the Austrian Federal Railways (ÖBB) in the Customer Experience department. He is an expert on accessibility in passenger transport and works on train interior and design.
Have you seen the other exclusive interviews from Global Railway Review with rail accessibility experts?
VIA Rail's Senior Advisor – Universal Accessibility, Catherine Langlois – READ NOW!

Irish Rail's Head of Customer Care and Accessibility, Ronan Murphy – READ NOW!
TransPennine Express', Accessibility and Transport Integration Manager, Chris Jeffery – READ NOW!
There will be other interviews over the coming weeks; participants will include DSB, ProRail, Avanti West Coast, Hull Trains, and many more!

If you would like to take part in the Access For All series, or would like to nominate a colleague, please email: Craig Waters, Editor, Global Railway Review.