Is the era of uncomfortable train seats coming to an end?
Ian Yeowart, Managing Director of Grand Union Trains, considers that a good-looking train seat is not necessarily a comfortable seat, and explains how the new operator will ensure the ambience and comfort of its train interiors is a major priority in what they hope will be an outstanding interior layout for passengers.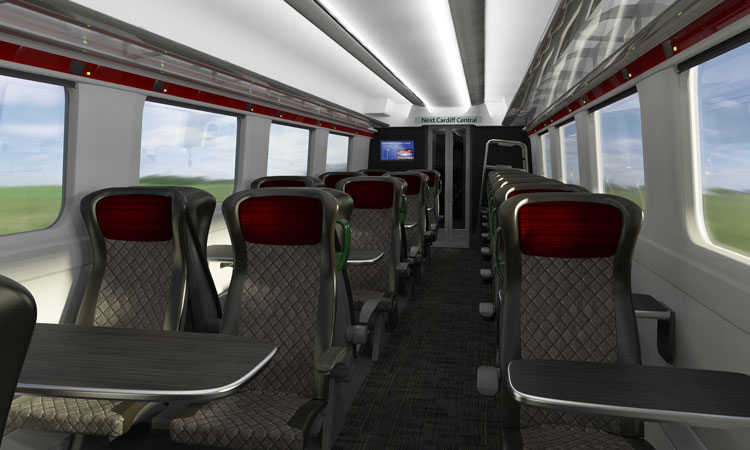 Standard Class interior Grand Union concept.
The apparent downgrading of train comfort and interior design has been a source of some heated discussion from colleagues both within and outside the railway industry. Seating often ranks several measurable points behind overall passenger satisfaction during rail surveys.
There have been several studies into the science of train seating and comfort, but at the risk of upsetting various consultancy colleagues, is it really scientific? Can it be measured by numbers, or should it be more measured by what is currently regarded as unfashionable common sense? The beauty is in the eye of the beholder, as well as the person who pays the bill. However, a good‑looking seat is not necessarily a comfortable seat!
Thinking of the passenger
As rail patronage has recovered following the impact of COVID-19, it appears the need to cram ever more seats into train carriages has been the driver of change rather than the comfort of those seats. This also brings with it the added problem of providing sufficient luggage space. On a passenger railway, particularly an intercity one, the comfort of the passenger and adequate luggage provision should be top of the necessary list of requirements (safety is a given), not how many seats can be squeezed into a particular space. Guaranteed to give some of my more 'fiscally minded' colleagues a fit of the vapours, comfort and space was our starting point, not the number of seats we could fit into a given space.
The improving quality and comfort of seats in personal transport provision – that is cars – should really have focused the minds of the public passenger transport providers to at least attempt to keep pace. Instead, with a few notable exceptions, it has gone the other way.
This need for quantity rather than quality has also seen seat profiles reduced, and as they have become thinner, they have generally become more uncomfortable. Obviously, the need to provide compliant seating in respect of fire and other standards is key, but our discussions with suppliers has indicated that they are keen to provide comfortable seats if somebody asks them to!
During the early phase of our development at Grand Union, when speaking to train manufacturers about indicative costs, one of their basic questions was how many seats we needed in a vehicle. They were pleasantly surprised when we turned the question around and asked them to tell us how many seats they thought the vehicle could accommodate. That has been our approach ever since.
We are not looking to reinvent the wheel. Having been involved in direct customer service for more years than I care to remember, I do not ever recall discussions of seat comfort having such prominence before – and this is not a pot shot at the seat manufacturers who are clearly providing the product specified. We would just like to specify something better!
Ambience and comfort of interiors is a major priority
Our developed plans for our approved Carmarthen service alongside our current application for Stirling have one thing in common: the passenger is uppermost in our thoughts, and the ambience and comfort of the interiors is a major priority in what we hope will be an outstanding interior layout. There will be several local journeys on our services, but the services themselves are true intercity services, with many journeys (on both routes) three to five hours in length.
With respect to seating, COVID-19 has shown that many people now expect a little more space, and so, once we had factored the impact on our business model, we have specified 2+1 as our Standard Class interior format, with a recline function on all seats. This also offers extra luggage space within the saloon between various pairs of seat backs. It also gives a wider aisle for getting that luggage into the saloon, and the layout will also provide several individual seats in each vehicle which we believe will be a major hit with individual travellers.
A new era for seating
Of course, the provision of such a significant improvement in Standard Class seating brings the exciting challenge of what to do in First Class, and while we currently have concepts, the final layout is something we are looking forward to revealing as we move towards service delivery.
The next challenge is how will the saloon interiors look and perform; what fabrics will be used and how can lighting be adapted to 'suit the mood' so to speak. Several new train interiors are particularly uninspiring, and while it may not be as critical as the seating itself, first impressions count, and now that we have approval, our work with designers has taken on a new vibrancy.
You will never be able to please everybody, but if our passengers vote with their feet (and bottoms), then perhaps the era of the uncomfortable train seat may be coming to an end.

Ian Yeowart has been in the forefront of delivering improved rail services for passengers during his time with British Rail, and within the privatised system by delivering new competitive rail services through 'open access'. Ian founded and developed Grand Central in 1999, which operates new and competitive rail services from Sunderland and along the East Coast through York, and from West Yorkshire through Doncaster to London King's Cross. Ian also founded Alliance Rail Holdings in 2009, whose GNWR services were given permission in 2018 to operate from Blackpool to London Euston along the West Coast.