Grand Union: Stimulating passenger demand through competition
Grand Union is seeking to introduce new and competitive train services between Carmarthen and London Paddington and Stirling and London Euston. Here, Managing Director, Ian Yeowart, writes about how this new open access operator will aim to provide a new customer-focused standard of train service, which challenges and changes the current passenger experience.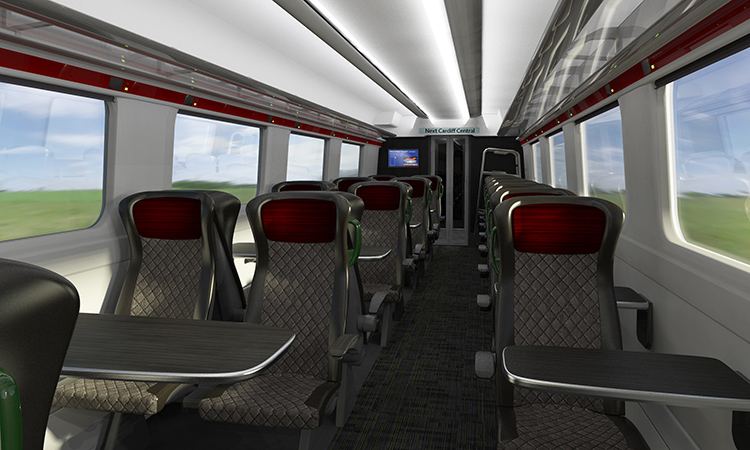 Grand Union Trains proposed Standard Class interior with 2+1 seating formation.
Grand Union is now close to a decision from the Office of Rail and Road (ORR) on its application to operate new rail services between Carmarthen in southwest Wales, and London Paddington station.
Despite the challenges of working with Network Rail, paths have been validated for the five trains per day (each way) service for some time. These trains are included in Network Rail's developing Concept Train Plan timetables now being finalised for both the Great Western Main Line and Wales.
Competition and support
The proposed new Swansea Parkway station at Parc Felindre (north of Swansea), a key development site for Swansea City Council and the Welsh Government, is an important part of the proposal. Located on the Swansea District line it avoids a reversal at Swansea station and delivers reduced journey times to west Wales. The initial promotion for the station came from the Secretary of State for Wales. It is therefore not surprising that Grand Union continues to receive significant support from the Welsh Government, Swansea City Council and Carmarthen County Council, along with cross-party support both in the Senedd and at Westminster.
While there is still some opposition to the proposal from both Great Western Railway (GWR) – who would have a competitor for the first time in 25 years – and the Department for Transport (DfT), the latest responses to consultation have resulted in support from CrossCountry Trains and Passenger Focus. With GWR owner First Group also owning successful new open access operator Lumo, it would not be unreasonable to expect that they would be in a position to rise to the challenge of facing competition as well as introducing it!
Both GWR and the DfT suggest that somehow the introduction of this limited competition would have a negative impact on the funds available to the Secretary of State. This is directly contrary to the evidence which clearly shows that competition on the East Coast Main Line (ECML) has considerably driven up usage across the board for all operators, particularly post pandemic. GWR and the DfT also suggest that the number of 'franchised' services could be reduced if Grand Union is approved, but on the ECML the number of services to York, Doncaster, and Edinburgh – the main core destinations of open access – have significantly increased since the introduction of competition.
The presence of that competition has been acknowledged by LNER Managing Director David Horne as focusing their mind on attracting customers: "…uniquely on the East Coast, rail users can choose between franchised services and those provided by now three open access operators. This has meant that, for many years, railway people on the East Coast have been incredibly focused on rail's competitive position and on attracting customers".
It is therefore of little surprise that the ECML, the only route with competition, has exceeded pre-pandemic levels of intercity ridership, while other intercity routes lag some way behind. In the latest industry figures, LNER is at 106 per cent and Grand Central is at 116 per cent. This is in stark comparison with GWR at 77 per cent and Avanti West Coast at 74 per cent.
The introduction of some competition and creative thinking on the Great Western Main Line will help to drive up ridership and focus rail minds in line with what is seen on the ECML.
The power of competition stimulating demand
Lower fares are proven to stimulate demand and drive growth, a fact underpinned by recent Transport Focus research.
Lower fares are proven to stimulate demand and drive growth, a fact underpinned by recent Transport Focus research. In the research, a panel group were asked what would make them more likely to travel by train? Eighty-five per cent (the top ranked response) stated "if fares were cheaper". This is a clear example of the power of competition stimulating demand 'in the market', and the significant benefit that competition brings passengers, taxpayers, and the environment, which is so clearly evidenced on the ECML. All competition 'for the market' does is create a long-term monopoly.
Recent network open access arrival and First Group owned Lumo, operating between London King's Cross and Edinburgh, has also seen, along with LNER, improved rail/air market shares on the route by 18 per cent, as well as bringing significant passenger benefits, Rail Minister, Kevin Foster noted that: "The addition of Lumo's electric trains to the East Coast Main Line is just one way our railways are leading the way in decarbonising transport. As we continue striving towards net-zero by 2050, operators like Lumo will help ensure we meet this ambitious target."
Potential to link Stirling and London Euston
Grand Union is also looking to introduce a new service, linking Stirling and London Euston by operating via the Scottish Central Railway through Cumbernauld and Coatbridge and then via the West Coast Main Line, stopping at Motherwell and Lockerbie. This will offer passengers new direct journeys from this significant catchment area of over 500,000 people, many of which are equidistant from the main Scottish airports. This application is currently out to consultation.
While a set of train paths, validated by Network Rail, have been created, Network Rail has so far refused any new access requests (including from Avanti West Coast for additional Liverpool services promised in their franchise award), despite a Network Rail forecast improvement in performance of 15 per cent. A position that Grand Union has noted as being untenable, not least because the West Coast capacity has been increased over time with public funding – at Network Rail's request – where the business cases have been based on the additional paths that would be provided.
Open access has been a significant good news story for the railway, delivering new services to many areas poorly served by the DfT specified railway. As well as stimulating growth and putting downward pressure on fares, a variety of well-paid and skilled jobs have been created, often in areas of economic necessity, and despite the difficulties of navigating the system, it is a good sign for the rail industry that a small number of private sector players continue to strive for access.

Ian Yeowart has been in the forefront of delivering improved rail services for passengers during his time with British Rail, and within the privatised system by delivering new competitive rail services through 'open access'. Ian founded and developed Grand Central in 1999, which operates new and competitive rail services from Sunderland and along the East Coast through York, and from West Yorkshire through Doncaster to London King's Cross. Ian also founded Alliance Rail Holdings in 2009, whose GNWR services were given permission in 2018 to operate from Blackpool to London Euston along the West Coast. Ian now leads Grand Union Trains, which is seeking to introduce new and competitive train services between Carmarthen and London Paddington and Stirling and London Euston, providing passengers with a choice of operator and increasing service provision on these important routes.