Steady construction continues on the new Koralmbahn
The Koralm Railway (or Koralmbahn) is a new double-track line approximately 133km-long that will run between the Austrian cities of Graz and Klagenfurt and is part of the Baltic-Adriatic Axis which connects the Baltic Sea with the ports of the upper Adriatic. At the heart of the new railway line is the Koralm Tunnel (approximately 32.9km-long) and once completed it will be one of the longest tunnels in the world.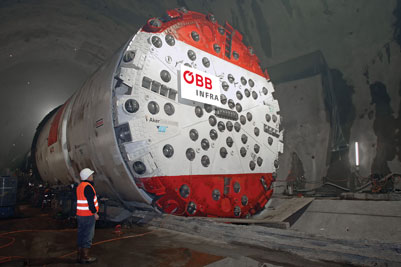 Full-commissioning of the Koralmbahn is scheduled for 2023
The Koralmbahn is designed for high-speed operations as well as for regional and freight trains. The layout of the line allows maximum speeds of up to 250km/h. Although full commissioning of the line is not until 2023, approximately half of the infrastructure is already under construction or in operation.
Tunnelling technology and progress
The first stage of tunnelling work on the Koralm Tunnel has been successfully completed, with a high-tech tunnelling machine carrying out exceptional work. The tunnelling machine's drill head has a diameter of almost 10m which required the use of no less than 45 heavy transport vehicles to transport it.
The rest of this article is restricted to logged-in members. Login or subscribe free to read it.