DB investment boosts manufacturers
Capital expenditure by Deutsche Bahn AG (DB) is rising by over 5% annually, but certification problems are giving suppliers pause for thought. In late-February 2014, DB put on hold its proposed high-speed Frankfurt–London rail service – news that came as little surprise. The project has been dogged by delays ever since the operator announced in October 2010 (beside an ICE hauled into the UK to go on show at London's St Pancras station) that it hoped to introduce a preview service in time for the London Olympics in July 2012, and a regular service a year later…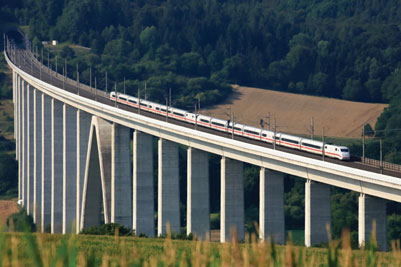 Copyright: Deutsche Bahn AG
At the root of the non-appearing London service is a factor which has seriously affected German domestic services: rolling stock acceptance delays. The London service was supposed to be formed by Siemens Class 407 Velaro D high-speed trainsets, but DB has had trouble getting these accepted for German domestic service, let alone cross-border journeys.
The fleet of Class 407 trains were originally due to enter service from December 2011, covering international services from Frankfurt to Paris and to southern France via the (then) new Rhin-Rhône high-speed line. But it was not until Christmas 2013 that the operator introduced them in Germany, following the green light from the federal approvals body, the EBA, to use the units in multiple.
The first four units of the 16-strong order were pressed into service as soon as certification for use in multiple came through (there was already approval for use of units singly, but DB refused to accept the trains until they had certification for multiple working). Another four are expected in spring 2014, while others are working on testing in France and Belgium with the aim of establishing cross-border working on the continent.
"We have not entirely given up the goal of going to London. But for now we are concentrating on going to Brussels and Paris," Andreas Busemann, Head of Production at Deutsche Bahn's long-distance business told the Reuters news agency in February 2014. "Once that is done, we will think about whether, how and when we will go to London. None of us anticipated that we would have such major problems with certification. In the meantime, the business environment has changed." Andreas went on to speak of increases in French track usage charges and tough competition from other modes.
The Velaro D fleet is just one of a number of new fleets that have been held up by certification problems. In an interview with a German magazine in the autumn of 2013, DB's Chairman Dr Rüdiger Grube lamented that the new InterCity double-deck push-pull sets being built by Bombardier, intended for use from December 2013, were still not in service. Adding to frustration with the delays was the fact that these trains, which comprise 160km/h TWINDEXX double-deck coaches and Class 146 TRAXX locos, are essentially identical to many already in service in Germany.
Other rolling stock held up includes Class 245 TRAXX ME diesel locos, where the first examples of an order with Bombardier for 13 machines were due to enter service in Bavaria at the end of 2013 but were parked up awaiting approval. Each loco costs over €3 million, so the delays represent a substantial economic loss.
It is widely recognised that things need to change. In a move that it is hoped will speed up the pace of approval, the EBA is due to become an oversight body monitoring the activities of independent approval bodies who will be contracted by train builders and operators. With an on-going programme of new rolling stock deliveries, DB will be looking for things to go smoothly in the future.
Contracts
DB signed a framework contract for up to 300 ICx trains with Siemens in 2011; the first firm order was for an initial batch of 130 trains for delivery from 2017 onwards. Bombardier is supplying Siemens with bodyshells and bogies for this order.
The ICx trains are intended to replace the InterCity hauled coach fleet, but as a stopgap DB workshops in Nuremburg, Kassel and Neumünster are partway through a €250 million programme to refurbish 770 InterCity coaches.
Recent contracts include one worth €325 million with Alstom for 56 Coradia Lint units for services around Cologne, while Bombardier has been delivering 83 Class 430 S-Bahn electric trains for Stuttgart and Frankfurt and TALENT 2 electrics for use around Munich and Leipzig.
Eastern European manufacturers have begun to win a share of the German market. DB Regio has ordered 36 Link 140km/h diesel units from Polish builder Pesa for services on the Sauerlandnetz system in North West Germany for introduction in December 2016. Berlin-based Niederbarnimer Eisenbahn (NEB) has also announced an order for nine Pesa Link trains.
Meanwhile, Czech manufacturer Škoda has won an order for six 200km/h six-coach double-deck push-pull trainsets and six Škoda 109 E loco types in a contract valued at over €100 million. The vehicles will have a pressure-tight bodyshell to stabilise the pressure inside the car when passing other trains on high-speed lines, especially in tunnels. Some of their duties will see the trains using the Nuremburg–Ingolstadt high-speed line where they will share tracks with ICE trains operating at up to 300km/h. The coaches will be built by Škoda Vagonka in Ostrava and the locomotives by Škoda Electric in Plzeň. Apart from two locos sold to neighbouring Slovakia, this is the first export order for Skoda's 109 E loco types.
Bombardier has won a €327 million order from S-Bahn Hamburg for 60 new three-car electric trains to replace older existing Class 472 trains on the port city's third rail network. Some of the new trains will be equipped for operation on the 15kV AC electrified mainline DB Netze network, as well as the third rail core of the system.
The contract with Bombardier includes an option for an additional 86 trains that can be exercised up until 2018 when the new DB contract to operate the network starts. If the option is taken up, it will enable the Hamburg authorities to extend the network further.
In May 2013, DB awarded Bombardier a framework contract worth up to €1.5 billion to add up to 450 new machines to DB's pool of TRAXX electric locos. Immediate orders were announced for 110 TRAXX locos for DB Schenker and another 20 Class 146 (P160 AC2) locos for DB Regio; others can be drawn off the framework as needed over the next decade.
With much of the network being electrified, there is only limited demand for diesel locomotives in Germany. One line on which they are needed is the 'Sylt Shuttle' car-carrying service from Niebüll to Westerland on the island of Sylt in north Germany. The island has no road connection, just a railway line built on a causeway across the sea. DB Fernverkehr AG has issued tenders for seven to ten high power (2,700kW +) diesel locos to operate on this route; the locos need to be able to operate trains of 1,200 tonnes at a maximum speed of 140km/h.
Shunting is another duty that calls for diesels. DB placed a €250 million order with Voith for 130 of the Gravita 10 BB model; the 1,000kW locos have engines supplied by MTU and are replacing the DB Class V90. DB has tested the Vossloh G6 type loco as a potential replacement for V60 0-6-0 diesel shunting locomotives that date back to the 1960s.
Infrastructure spending
In the DB Netze Track Business Unit, two thirds of capital expenditure has gone on the historic network, funding the upgrading of lines, structures and signalling.
Expansion has been focused on German reunification transport projects such as the Nuremberg–Erfurt and Erfurt–Halle/Leipzig high-speed lines plus upgrading of the Berlin–Rostock route.
Work is proceeding on the Stuttgart–Augsburg and the Karlsruhe–Basel high-speed routes and for freight, the line to Wilhelmshaven.
In the DB Netze Stations Business Unit, the Leipzig City Tunnel is a large project recently completed. On-going is the controversial Stuttgart 21 project which has attracted opposition from some quarters due to the radical reshaping of the city it is prompting. In Berlin, a rail link will be provided to the big new airport being built alongside the existing one at Schönefeld, while work is proceeding on the Berlin Ostkreuz hub.
The new City Tunnel under the centre of Leipzig was opened in December 2013. The twin-bore tunnel has four underground stations plus another on its southern approaches above ground. The main contractor on the project was a joint venture between Dywidag, Alpine, Universale GSB, Strabag and Oevermann. Specialist work on subsidence was undertaken by Keller Grundbau: as the tunnel is shallow, just 6m-below ground in places, there was concern that buildings might suffer subsidence. A novel solution was adopted whereby some buildings were raised by 10mm to counter subsequent subsidence. Care was then taken with grouting. Rotary rigs manufactured by Keller were used in this process, with Keller Group subsidiary GeTec Ingenieurgesellschaft monitoring the work.
As well as the Leipzig City Tunnel, another 31km of railway reopened to passengers in three different local schemes around Germany with the December 2013 timetable change. In Bavaria, the Senden to Weissenhorn branch reopened to passengers after being closed since September 1966. Near the Dutch border, the Lindern to Heinsberg (Rheinland) branch reopened, having shut in 1980. And a third reopening, from Marienheide to Meinerzhagen to the east of Cologne, was delayed as work was not complete. In all cases DB Regio won the contract to operate the new services, although only the Marienheide to Meinerzhagen line is owned by DB Netze.
The latest in the hugely successful series of European Railway Review conferences, Austrian Rail Development 2014 will bring together infrastructure managers, passenger and freight operators and key rail industry stakeholders to present future vision and key investments for the network and discuss and debate the fulfilment of the EU-vision for the development of central Europe to 2020. The inaugural Austrian Rail Development conference will take place on 11 June 2014 at the Palais Ferstel in Vienna, Austria.
Just some of the topics and themes to be featured at this brand new conference include:
The Master Plan for Austrian Rail
Infrastructure: future projects and plans
Opening of the rail infrastructure to new operators
The Vienna–St Pölten Project
The Corridor E Project
Passenger and freight operator investment plans
How to increase levels of rail freight
Interoperability and competition in the rail market
Austrian ERTMS Strategy 2025+
For more information please visit: www.austrianraildevelopment.com