A holistic approach to sustainability on Crossrail
At £15 billion, Crossrail in the UK is the largest infrastructure project in Europe. The new railway will connect 40 stations across London, including Heathrow Airport and Reading in the west with Canary Wharf, Abbey Wood and Shenfield in the east. Crossrail will add 10% extra rail capacity for London and bring an additional 1.5 million people within 45 minutes commuting distance of London's key business districts. The estimated benefit of Crossrail to the UK economy is at least £42 billion. Sustainability Manager, Dr Michael de Silva, explains how Crossrail is committed to building this new railway in a way that provides a lasting economic, environmental and social sustainability legacy…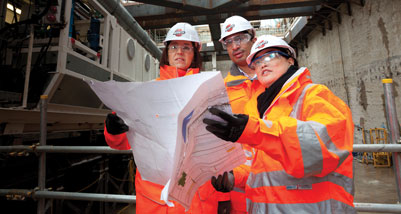 Building sustainability into Crossrail
To ensure sustainability was built into planning from the outset, Crossrail produced a Sustainability Strategy adopting seven sustainability themes under which 15 key sustainability initiatives (KSIs) were established.
Responsibility for each KSI is assigned to directorates and integrated into the annual business plan. Key Performance Indicators (KPIs) have been established for each KSI against which performance is incentivised. KPIs are reported in three dashboards – social, environmental and economic sustainability – and monitored by the project's Sustainability Committee. This Committee provides governance and direction and provides support where required.
This governance structure and commitment to voluntary annual sustainability reporting is quite unique to a temporary organisation.
Sustainability policies drive procurement
Crossrail's Procurement Strategy embodies seven themes of Responsible Procurement, which are articulated within contracts with principal contractors. Examples include:
Environmental requirements cover management of carbon and energy, noise and vibration, dust and air quality, pollution control, water and material resources, archaeology and historic environment
Use of BREEAM and CEEQUAL as environmental assessment and benchmarking tools
Requirement for Community Investment Plans to donate time and money to local causes
A target of 400 new apprenticeships
A free job brokerage service, Jobcentre Plus, works with contractors and outreach agencies to promote vacancies and help equip local people to compete
Project Bank Accounts (PBA) – All tier 1 contractors are required to establish PBAs to pay sub-contractors. Crossrail can monitor balances to ensure suppliers are being paid promptly. 
Collaborative working
Collaborative working has been promoted through the following:
A Contractor Environmental Managers forum and website to share best-practice
An Ethical Supply Chains in Construction working group with procurement specialists from tier 1 contractors
A carbon working group of sustainability representatives from tier 1 contractors, to collaborate in deliveing lower carbon solutions and share industry knowledge
An innovation programme, unique to a temporary organisation, evaluates ideas in the form of a competition and provides funding. Analysis shows that many of the submissions are sustainability related; the power of an innovation programme to harness sustainable benefits is immense.
Measuring performance
Carbon and energy
Crossrail is pioneering an approach to understand the carbon footprint of the project over its whole life. This has led to construction carbon reductions of up to 20%, with an average of over 8%. Energy efficient lifts, escalators and LED-lighting had been specified throughout and rolling stock weights are amongst the lowest in class and include a number of energy saving features.
BREEAM/CEEQUAL
Crossrail uses two environmental evaluation schemes; BREEAM and CEEQUAL.
BREEAM (Building Research Establishment Environmental Assessment Methodology) is an environmental assessment and rating system for buildings. Crossrail is the first project to use BREEAM for underground stations. Through collaboration with the BRE, specific criteria were developed – an industry-leading initiative allowing future benchmarking for underground stations.
The CEEQUAL (Civil Engineering Environmental Quality) Award Scheme is used to evaluate Crossrail's tunnel, portal and shaft structures.
These methodologies provide rigour to the design process and enable improvements to be made. 
Excavated material and construction waste
Crossrail has targets of 95% and 90% respectively for the beneficial use of these materials. The project is exceeding these targets, with nearly 100% construction waste being diverted from landfill and 99% of excavated material being beneficially used – a significant volume of which is used for the Wallasea Island wild coast project.
Wallasea Island in the Crouch Estuary will be transformed from levee-protected farmland into thriving wetland, twice the size of the City of London, to replace that being lost by rising sea level. The project, never before attempted on this scale in Europe, is a Royal Society for the Protection of Birds (RSPB) project with whom Crossrail is partnering. Wallasea will provide 670 hectares of habitat for wildlife to thrive.
Diesel emissions control
Crossrail is committed to reducing emissions from non-road mobile machinery where reasonably practicable. Use of cleaner Euro 3b engines and retrofitted diesel particulate filters contribute towards improving air quality in London and local communities.
Economic growth, skills and community benefits
Crossrail is creating jobs and stimulating growth. Data indicates that 62% of the supply chain spend is taking place outside of London and a similar percentage of spend is with SME's. Approximately 97% of Crossrail-related contracts are being delivered by UK-based companies. The project has so far supported the equivalent of 13,800 full-time jobs, with three out of five of these jobs outside of London.
Crossrail engages proactively with the supply chain, creating opportunities for companies that may not otherwise have the opportunity. The use of CompeteFor, an online resource that flags-up contracts to these companies, has attracted new suppliers. 
London is an expensive city, and it is important that the more vulnerable members of the workforce are protected through payment of the London Living Wage2.
Crossrail is in the heart of the city and as such contractors are part of the community. Contractors are required to put something back, whether financial contributions, donations of materials, or volunteer time. Crossrail Ltd has a Community Investment Programme, linked with Young Crossrail, an education programme.
Rewarding contractors
In addition to Annual Sustainability Awards, Crossrail initiated the 'Green Line' campaign. Contractors demonstrating above compliance performance across a number of environmental criteria are awarded the Green Line, a visible symbol at site entrances to signify a best-practice site and promoting pride.
Summary
Crossrail shows that early definition of sustainability with clear lines of ownership, responsibility and governance can be managed across diverse interests to provide benefits that are balanced and address social environmental and economic needs.
Crossrail is paving the way for future projects,proving that it can be affordable and, indeed, financially and economically beneficial to pursue sustainable outcomes, particularly when wider benefits to the economy are taken into consideration.
Acknowledgement
This article is based on extracts from 'Building Crossrail – A Holistic Approach To Sustainability', authored by Mike de Silva, Sustainability Manager, Bechtel and Robert Paris, Head of Sustainability and Consents, Crossrail Ltd.
References
Encouraging a diverse base of suppliers, promoting fair employment practices, promoting workforce welfare, addressing strategic labour needs and enabling training, community benefits, ethical sourcing practices, and promoting greater environmental sustainability.
The hourly rate of pay that the Greater London Authority Economics calculate each year, taking into account the higher cost of living in the capital and the rate of inflation, which is needed to be paid to someone to allow them an acceptable standard of living above the poverty threshold.
Biography
Dr Michael de Silva (BSc, Ph.D., FCIWEM, MCIEEM C.WEM, CSci) has over 25 years of experience much of which has been gained in the rail industry. He has worked on the two largest rail link projects in the United Kingdom, Crossrail and High Speed 1. Mike has been Sustainability Manager on the Crossrail project since August 2009 and is responsible for its sustainability strategy and reporting as well as leading on CEEQUAL and BREEAM and carbon management. He is well known in the industry and has published a number of papers, made numerous presentations and also sat on a number of working groups including CEEQUAL International, BREEAM Infrastructure and BES6001, a voluntary standard on responsible sourcing of construction materials and products.