Eurostar unveil new e320 train and future plans
Towards the end of 2014, Eurostar unveiled its new e320 train – designed to offer passengers an unprecedented level of style and comfort, as the cross-Channel high-speed operator looks to ambitious growth in its services in the future. Global Railway Review was keen to interview Nicolas Petrovic – CEO of Eurostar – to understand more about their plans for the future and the key features of the new trains…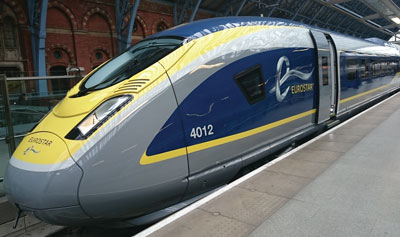 Towards the end of 2014, Eurostar unveiled its new e320 train – designed to offer passengers an unprecedented level of style and comfort, as the cross-Channel high-speed operator looks to ambitious growth in its services in the future. Global Railway Review was keen to interview Nicolas Petrovic – CEO of Eurostar – to understand more about their plans for the future and the key features of the new trains.
Eurostar has changed the way people travel over the last 20 years. How will the new e320s help increase passenger capacity in the future?
Over the last 20 years, we have led the way in cross-Channel high-speed rail travel, cementing the link between the UK and mainland Europe. Having had 10 consecutive years of growth, we are seeing record demand for our services and the addition of the e320s to our fleet will be key to achieving our growth ambitions.
The new trains can carry almost 900 pass – engers, which boosts capacity per train by 20%. When they come into service later in 2015, passengers will see a complete transformation of our service. Over and above an increased capacity, the e320s bring chic new interiors and Wi-Fi connectivity providing an unprecedented level of style and comfort for our customers.
Another key feature of the e320s is that they are interoperable, which means they have the ability to operate on parts of the European network which our current trains cannot serve. This is enabling us to offer direct services to Amsterdam, for example, from December 2016, and is a signal of our commitment to expanding our routes in the future.
Why in particular did Eurostar choose the Siemens Velaro platform for the train-design?
Siemens have a very strong track record in building state-of-the-art trains specifically for high-speed rail, and we were impressed by what they brought to the table.
We have enjoyed working very closely with them and with Italian design-house Pininfarina throughout the design and build process to make sure that together, we created a train that would not only offer an exceptional performance on the track, but also provide unrivalled levels of comfort for our passengers. We were proud to unveil the new train on our 20th birthday in 2014, and also to announce our decision to add an additional seven new e320s to our fleet over the coming years.
What do you think is the one stand-out new interior feature of the e320 that passengers will be most impressed with?
The design of the new interiors, right from the colour palette to the seat recline, was very important to us as we want to offer our passengers the most comfortable and relaxing on-board experience. I know that being able to access the internet is a common request, and so I am sure passengers will be impressed with the free Wi-Fi and infotainment system which will be on board all of our new trains. We've worked hard to ensure there is a seamless switchover at international borders and of course there is even a signal in the Channel Tunnel!
How and where will the new fleet be maintained?
We will continue to use our existing depots to maintain the new fleet, and any changes that need to be made to accommodate this, including staff training, are all well underway.
What does the future hold for Eurostar?
Over the last two decades, we've welcomed 150 million passengers on board our trains and transformed travel across the Channel, bringing the UK, France and Belgium closer than ever before.
As we look ahead to the future, we are ambitious to expand further into Europe. In May 2015, we will start a direct year-round service to Lyon, Avignon and Marseille and this will be followed in 2016 by a new direct route to Amsterdam with stops in Antwerp, Rotterdam and Schipol.
The arrival of the new e320 in 2015 will help us to meet the ever-growing demand for high-speed rail travel, and we and our customers are looking forward to an exciting future. 
Biography
Nicolas Petrovic became CEO of Eurostar in April 2010. He joined as Director of Customer Services, London, in August 2003 before spending almost four years as Chief Operating Officer. Prior to his tenure at Eurostar, Nicolas worked for SNCF as the Secretary General for Direction Grandes Lignes and Operational General Manager for the Paris Saint-Lazare area. In addition to his extensive experience in the transport industry in both the UK and France, Nicolas gained an MBA from INSEAD in 2003.