The Spanish railway industry: a benchmark worldwide
Posted: 1 October 2015 | Pedro Fortea, Director of Mafex – the Spanish Railway Association | No comments yet
The Spanish high-speed network has provided the country with one of the most modern and advanced forms of transport to currently exist, placing it at the forefront and as a world benchmark on the matter for many different countries wishing to implement and develop similar railway systems or infrastructures. How and why is Spain regarded so highly? Pedro Fortea, Director of Mafex – the Spanish Railway Association, explores.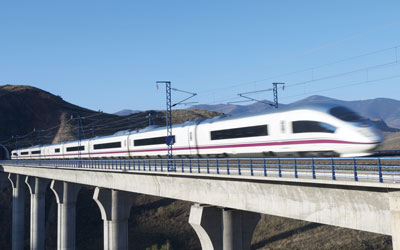 Spain has one of the largest and most modern railway infrastructure networks in the world. Development of this network has involved the direct participation of a world leading industry that is noted for its high degree of internationalisation and innovative technology.
At the end of 2014, Spain had a railway network running over 15,200km, of which 11,483km belong to the conventional network, 2,322km to the high-speed rail line network on UIC gauge (HSR), 119km of mixed network and 1,207km of narrow or metre gauge.
n line with EU regulations in terms of both freight and passenger transport, the liberalisation of the sector is taking place in Spain, which will involve the participation of private companies in the operating of railway transport services in direct competition with the state-owned company RENFE. A series of private companies have already been working in the freight sector since 2007 and the process is now underway in the passenger sector
One of the most notable characteristics of the railway system in Spain is the coexistence of different track gauges over its network: the Iberian or conventional gauge measuring 1,668mm and currently in use over most of the Spanish railway network, the standard, UIC or international gauge measuring 1,435mm that is present on the highspeed lines, and the narrow track gauge, which includes all gauges below 1,435mm and that, particularly in Spain, is practically the metre gauge (1,000mm).
The rest of this article is restricted to logged-in members. Login or subscribe free to read it.